50lb Co2 Tank (Siphon Tube)
Quick Overview
This 50lb Aluminum Co2 Tank with Siphon Tube is perfect for use with Co2 Cannons and Handheld Cryo Guns. Weighing roughly 99lbs full, this tank is still easy to move when a dolly is not present. This tank does include a siphon tube (also called a Dip Tube or Eductor Tube). This 50lb tank has a limit of roughly 1 minute 25 seconds of liquid Co2 supply.
When used in conjunction with CryoFX high output co2 valve or handheld co2 cannons, it will disperse liquid co2 as needed for this style of Co2 Jets to work. This tank is made from Aluminum and is hydro tested before sale, which is required to get filled by any Co2 Gas facility that fills Co2 Tanks.
Note: We can also offer this tank with no siphon tube as well, for those applications outside Co2 Special Effects requiring Co2 Gas delivery.
The CryoFX® 50lb Aluminum Co2 Tank also known as co2 Cylinder comes with a siphon tube inside. This 50 pound co2 tank is perfect for small productions and is lightweight enough for easy transport. If you want to have mobile co2 special effect equipment and use this equipment without large bulky tanks, this Co2 Tank is perfect for all your mobile co2 special smoke effect needs. The 50lb Tank will last you for about a minute and 15 seconds of white co2 special effects. The Co2 Tank weighs roughly 99lbs full, this tank is still easy to move when a dolly is not present. This tank does include a siphon tube (also called a Dip Tube or Eductor Tube). For liquid use, such as with CryoFX® Co2 Jets, you do not have to turn it upside down. This 50lb tank has a limit of roughly 1:25 seconds of liquid Co2 supply and thus will give you about 25 bursts of 4 to 5 seconds of theatrical smoke plumes of special effect each.
The reason different times are given is the actual run time of the tank varies on ambient temperature, whereas the hotter the temp the less liquid more gas higher pressure. The cooler the temp, the more liquid the less pressure. More liquid measn more usage run time!
CO2 Tank Product Description:
CryoFX® Premium aluminum 50 lb CO2 cylinder with siphon tube. See store for Siphoned Co2 Tanks.
Details about this 50lb CO2 cylinder:
Siphon tube included

High-quality aluminum construction

Thick, damage-resistant walls

Aluminum's natural corrosion resistance is perfect for CO2 and wet gases

Tank exterior is brushed – good-looking and easy to maintain

Aluminum tanks are up to 40% lighter than steel

Single handle for easy carrying

Date of manufacture or hydro test within 180 days

Tank performs very well at low temperatures

Ships empty

DOT- and TC-approved

Consistent TARE weight cylinder-to-cylinder

Due to size and weight, this 50 lb CO2 cylinder must ship by itself – separate shipping will appear at checkout.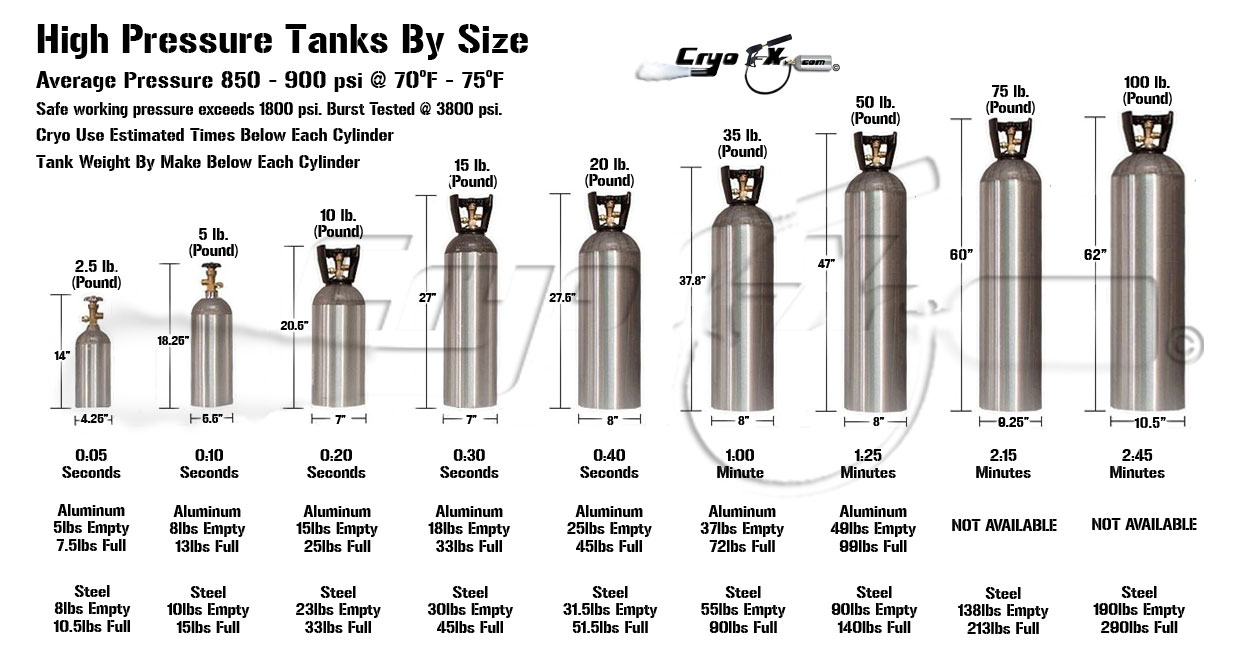 50lb Aluminum Co2 Tank, with Siphon Tube. The 50lb Co2 Tank with Siphon Tube can be used for any application requiring Co2 within North / South America and Canada. More specifically, any region which uses a CGA320 style Co2 Valve. This size tank is the standard for nightclubs, productions, and more, and is the most common of tanks chosen before moving to oversized options. What is uncomon is the material makeup, as normally 50lb Co2 cylinders come in Steel weighing outrageous amounts empty and full. Empty this Aluminum 50lb Co2 Tank weighs roughly 49lbs and full, right around 99lbs. This tank does include a siphon tube, therefore when used in its upright position, it will disperse Co2 in it's Liquid form.
Uses for a 50 lb Co2 Siphon Tank
There are many uses for a Co2 Siphon Tank in general, however when discussing a 50 lb Siphon Co2 Tank, some are more focused to uses that require liquid co2. reason being, this specific co2 tank has whats called a siphon tube, other known as a siphon tank.
You may ask:  What is a siphon tube in a Co2 tank? A siphon tube is a tube that drops down the center of the tank and ends just above the bottom, cut with a 45 degree angle, and is attached to the co2 valve at the top. The use is to draw the liquid co2 up and out the valve versus the gas, since a co2 tanks when full has about 2/3 liquid and 1/3 gas in it. The liquid, as pressure releases or the gas is used, converts to more gas within the tank. 
Other Names for a Siphon Tube Tank:
Co2 Siphon Tank
Siphon Co2 Tank
Siphon Tank
Co2 Tank With Siphon Tube
Co2 Syphon Tank
Dip Tube Co2 Tank
Eductor Tube Tank
Siphon Co2 Cylinder
Now some of these may seem the same or similar, and they mean the same thing, but the spelling is different, such as "Co2 Syphon Tank" versus "Co2 Siphon Tank" whereas the word Siphon / Syphon is spelled different. Other words for siphon co2 cylinder / syphon co2 tank are "Eductor Tube" or "Dip Tube Co2 Tank" which are other industry names for the same type of tank, as they all mean the same thing: A tube inside the tank that sucks up the liquid co2!
If you're still having a hard time imagining this, lets make it simple... think: Straw in a soda cup! When the straw is in the cup and you squeeze, soda comes out everywhere. Remove the straw, squeeze the cup, only air (from the top) comes out. Same concept.
Other Names of this specific 50lb Siphon Co2 Tank:
50 lb Siphon Co2 Tank
50lb Syphon Co2 Tank
50lb Co2 Tank with Siphon Tube
50lb Eductor Tank Co2
50 pound co2 tank with siphon tube
50 pound siphon co2 tank
50lb Siphon Co2 Cylinder
50 pound siphon co2 cylinder
50lb dip tube co2 tank
...okay you get the point!
How do you tell if a Co2 Tank has a siphon tube?
Simply put, you don't visually! The Siphon Tube is inside so unless you unscrew the valve you won't know visually (DO NOT DO THIS!!!). You can find out if the tank is full, secured to something with a strap, and you open the valve while holding the tank. If a large qhite cloud comes out the dip tube is installed. If small or no white cloud comes out, no siphon tube installed. Important: This is variant on temperature and humidity. 
What does this mean? Example: Using same situation above, same tank, same locations, Las Vegas vs San Diego:
Las Vegas at 95F temp and 5% humidity: With siphon tube inside the tank the output will look like it has no siphon tube as the variance is minimal since no humidty and high temp.
San Diego at 65F temp with 70% humidity: With a siphon tube installed you will see HUGE difference between siphon/no siphon tube on the co2 tank as the output is quite different.
Uses for a 50 lb co2 tank with a Siphon Tube:
There are many uses for a siphon tube co2 tank, specifically the 50lb size, regardless whether aluminum or steel. Some of the uses are:
Co2 Special Effects
Welding with or without mixed gas
Dry Ice Blasting
Glass and Microscope Cleaning
Extermination Services to fight against bed bugs
Medical Labs / BIO for Freezing Tissues and Other Organic Matter
Extraction and Supercritical Extraction Processes
Oil Industry: Enhanced Oil Recovery
Cryotherapy and Co2 Laser for Medical
Production of Wine
Refrigerant Known As: R744
Many More!
Co2 Tank Sizes Including the 50lb Co2 Cylinder Size
Note, these co2 cylinder sizes and co2 tank dimensions listed below are standard for most aluminum co2 cylinders.
These may vary depending on manufacturer and build. If your looking for steel co2 tank sizes, we have that information available at 
| Model | Carbon Dioxide (CO2) | Service Pressure | Diameter | Height | Weight | Nitrogen (N2) | Inlet Thread |
| --- | --- | --- | --- | --- | --- | --- | --- |
|   | lb. (kg) at 68% fill | psig (bar) | in. (mm) | in. (mm) | lb. (kg) | ft3 at 70°F (m3 at 21°C) |   |
| 1.5 lb | 1.5 (0.68) | 1800 (124) | 3.2 (82) | 11.5 (292) | 1.8 (0.83) | 4.3 (121.76) | 3/4"-16 UNF-2B |
| 2.5 lb | 2.5 (1.14) | 1800 (124) | 4.4 (111) | 11.0 (280) | 3.7 (1.66) | 7.2 (203.88) | 3/4"-16 UNF-2B |
| 5 lb | 5.0 (2.27) | 1800 (124) | 5.3 (133) | 14.2 (362) | 7.5 (3.42) | 14.5 (410.59) | 1-1/8"-12 UNF-2B |
| 10 lb | 10 (4.55) | 1800 (124) | 6.9 (175) | 16.6 (422) | 14.1 (6.40) | 29.0 (821.19) | 1-1/8"-12 UNF-2B |
| 15 lb | 15 (6.82) | 2215 (153) | 7.5 (184) | 22.9 (582) | 22.3 (10.1) | 43.3 (1,226.12) | 1-1/8"-12 UNF-2B |
| 20 lb | 20 (9.09) | 1800 (124) | 8.0 (203) | 23.3 (592) | 24.8 (11.2) | 57.6 (1,631.05) | 1-1/8"-12 UNF-2B |
| 50 lb | 50 (22.7) | 1800 (124) | 8.6 (218) | 46.3 (1,177) | 48.8 (22.1) | 144.0 (4,077.63) | 1-1/8"-12 UNF-2B |
50lb Co2 Tank Refill Cost
When searching for a co2 tank refill cost or co2 tank refill near me, these are two queries that greatly depend on many factors. We go into great detail on that on this page titled: Co2 Tank Refill Cost
For specific information on a 50lb Co2 Tank Refill Cost
Note: Images are for representation only. Actual product may differ in color, style, come with or without logos, or vary in overall look. Functionality and parameters the product is designed to do that is advertised herein will still remain.
Updated: 6/28/22
More Information

| | |
| --- | --- |
| Weight (kgs) | 24 |
| Model | 50lb Siphon Aluminum CO2 Cylinder Tank |
| Length | No |
| Height | No |
| Width | No |
| Size and Type | No |
| Linkable | No |
| Power | No |
| Range of Motion | No |
| Tank Height | 47 Inches (119.38cm) |
| Tank Width | 8 inches (20.32cm) |
| Tank Weight | No |
| Tank Material | Aluminum |
| Tank Color | Aluminum-Grey |
| Tank Style | Siphon - Includes Dip Tube |
| Tank Capacity | 50lbs |
| Tank Valve Outlet Orientation | CGA-320 USA |
| Temperature Rating | No |
| LED Count | No |
| LED Color | No |
| LED Wattage | No |
| Reach | No |
| Nozzle Material | No |
| Pressure Rating | No |
| Warranty | No |
| Warranty (Tank) | 15 Day - Operational Defect |
| Display Product Options In | Block after Info Column |