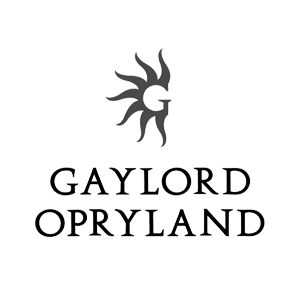 CryoFX® was contacted by the operations team at Gaylord Opryland to form a relationship for special effects equipment sourcing.
CryoFX® team members provided special effects sourcing and supply on multiple occasions at multiple venues. This included CO2 special effects, cold spark machines, and confetti special effects. CryoFX® technicians also supplied repair services on-site to ensure that Gaylord Opryland had 100% satisfaction with every single product and operation.
Gaylord Opryland is a hotel group with its flagship resort & convention center located in the heart of Nashville. The resort welcomes 1000s of guests a month to over 750,000 sq ft of flexible meeting space, 2,712 beautiful guest rooms, and 176 spectacular suites.
The hotel features 9 acres of airy, indoor gardens, award-winning restaurants & bars, a world-class Relâche Spa, and a state-of-the-art fitness center. With seasonal events and entertainment as well as high-end amenities and stunning spaces, Gaylord Opryland has something for everyone.
Gaylord Opryland
2800 Opryland Dr
Nashville, TN 37214
https://www.marriott.com/en-us/hotels/bnago-gaylord-opryland-resort-and-convention-center/overview/


For more info on CryoFX® projects, please see https://CryoFX.com/portfolio