Quick Overview
Handheld Co2 Cannon ®
Quick Overview
Co2 Cannon® Co2 Cannon Gun - Great for the beginner or DJ on a budget.
Looking for something professional, or with Lifetime Warranty? Choose CryoFX® Handheld Cryo Gun or the Co2 Cannon® Co2 Cannon here.
Handheld Co2 Cannon from Co2 Cannon® Comes with hose and fittings! This package comes with the following:

• Co2 Cannon (Varies per selection) Hose.

Co2 Cannon is a good fit for any DJ or Small Production. Simple and Affordable.

Warranty only good for 30 days.

CryoFX® Co2 Cannon can spray Co2 clouds 20-30+ feet. With options available such as; Custom nozzle colors, custom hose lengths, custom nozzle lengths and nozzle widths, and much more, that unique touch for your Co2 Cannon is just fingertips away. Simply call or email us for your custom order! Comes with limited lifetime manufacture warranty!

Hose length is customizable. If you desire a custom length hose or have any questions, please contact us:
Email- sales@cryofx.com
+1-8-555-CRYOFX
(+1-855-527-9639)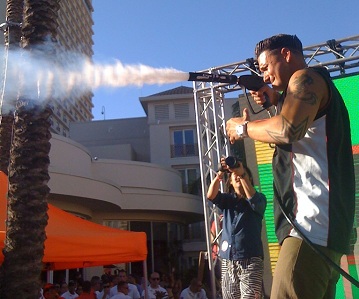 More Information

| | |
| --- | --- |
| Weight (kgs) | 1.2 |
| Hose Length | Pre-Selected or Custom Lengths available |
| Model | Handheld Co2 Cannon for Smoke Special Effects |
| Length | Varies based on Selection 20 inches (50.8cm) |
| Height | Varies based on Selection (9 Inches (22.86cm) |
| Width | Varies based on Selection 2 inches (5.08cm) |
| Output | Regular Output |
| Size and Type | No |
| dmx_channels | No |
| Linkable | No |
| Power | No |
| Range of Motion | No |
| Power Cord Length | No |
| Tank Height | No |
| Tank Width | No |
| Tank Weight | No |
| Tank Material | No |
| Tank Color | No |
| Tank Style | No |
| Tank Capacity | No |
| Tank Valve Outlet Orientation | No |
| Temperature Rating | No |
| LED Count | No |
| LED Color | No |
| LED Wattage | No |
| Reach | Varies depending on selection - 20'-35' feet (7.6-10.6 meters) |
| Nozzle Material | Metal |
| Pressure Rating | Up to 1100 psi (75.84 bar) |
| Warranty | Limited 30 Day (Co2 Cannon® Brand) |
| Warranty (Tank) | No |
| Display Product Options In | Block after Info Column |