Co2 Gun Special Eeffects Llimited Edition Blue
SKU
Co2 Gun Special Eeffects Llimited Edition Blue
Quick Overview
Co2 Special Effect Gun Limited Edition Series
Quick Overview
CryoFX® introduces the Cryo CO2 Limited Edition Series Special Effect Stage Gun in Blue. The CryoFX® Premium CO2 Gun is by far the most sought after CO2 Special Effects Gun in the entertainment industry. We only make ONE Co2 Gun - Yours! Call Us Now if you would like a custom built Co2 Gun exclusively manufactured for you! Build your CO2 Gun with your favorited color and with your favorite label. Currently in the hands of over 30 of the worlds top 100 DJs and having made appearances in Movies, Music Videos, Live Touring Performances, and Special Effects Worldwide, the CryoFX® Cryo Gun is a symbolic icon around the globe.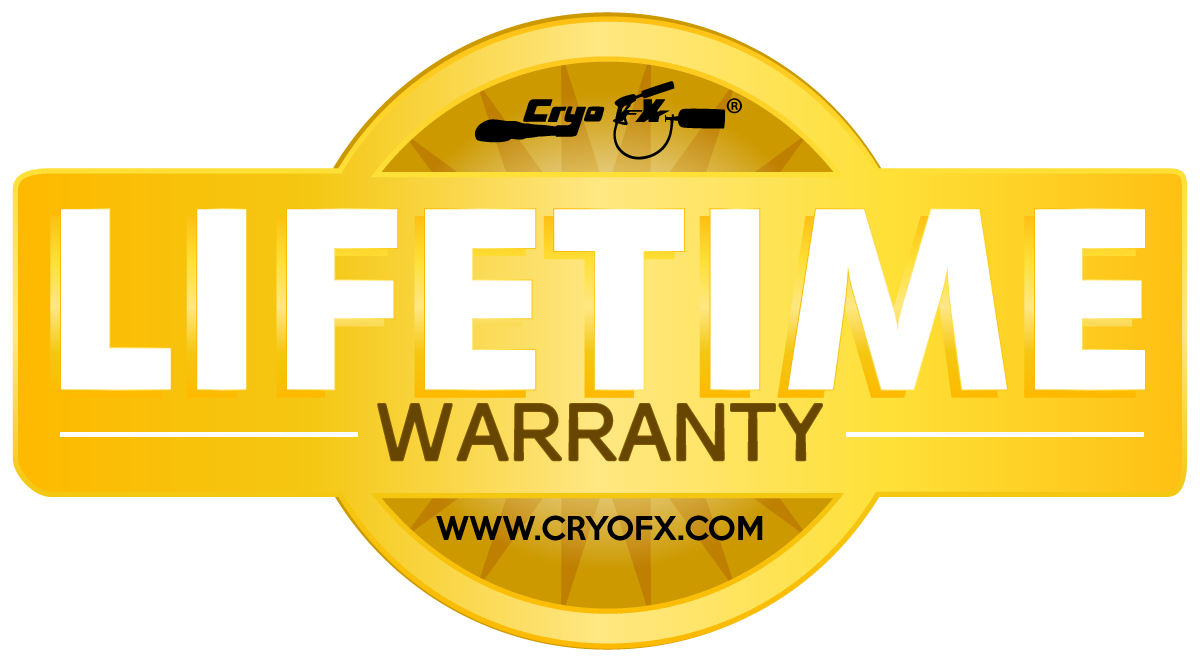 The Limited Edition Series Co2 Gun from CryoFX® is custom designed and manufactured exclusivley for you. We only BUILD and Manufacture ONE CO2 Gun - Yours! Call us today or purchase your limited edition co2 gun series today! We only build it when you order it. Customize the CryoFX® CO2 Gun in your favorite color and with your brand or logo.
Plug and Play Handheld Cryo CO2 Gun. Comes with hose and fittings and is ready to use in minutes, simply connect to a CO2 tank! This package comes with the following:
Limited Edition Series CO2 GUN System Features:
• Portable handheld Co2 and Cryo special effects product ; ;Handheld Cryo Gun (CO2 Cannon)
• Manual control, no electrical power required
• Safety lock to prevent accidental triggers
• Grip handles for better handling and support
• Plumes Effect height 16- 26 feet 5 - 8 meters
• Specially designed LES noise reduction nozzle
• 10" Nozzle Co2 spray nozzle for easy cleaning and maintenance
• Co2 Liquid tank required for operation with no siphon tube when using the CryoFX CO2 backpack
• Co2 quick connect for quick connection and removal of Co2 Hose
• CryoFX® very own brand of High Pressure Co2 Hose with attached quick disconnect fitting.
• Brass fitting to connect hose to CO2 Tank (Tank not included)(Co2 Fitting WILL fit your local Co2 tanks)
• Manual, Safety Guidelines, and FAQ (Frequently Asked Questions).
• LIFETIME WARRANTY AGAINST OPERATIONAL/MECHANICAL DEFECTS.
CryoFX® Cryo Gun, one of CryoFX® ; best sellers, is the perfect addition to any DJ system or mobile production. Have complete flexibility and maneuverability with CryoFX Cryo Gun. Requiring no electricity and weighing only 2.7 pounds (1.2Kg), this Cryo Gun is extremely lightweight and has the ability to be used almost anywhere.

Add a new element and a huge surprise to any show. Incorporating easy connections and including CryoFX® very own brand of High Pressure Co2 Hose, along with a step by step pictorial user manual, you will be ready to use this Cryo Gun in minutes, pending you already have CO2. Measuring only 20 inches (50.8cm) by 9 inches (22.86cm), CryoFX® Cryo Gun is small in size which makes it easy to carry.

CryoFX® Cryo Gun has the capability to spray CO2 clouds 25-35 feet (7-10 meters) or more. With options available such as; Custom nozzle colors, custom hose lengths, custom nozzle lengths and nozzle widths, and much more, that unique touch for your Cryo Gun is just fingertips away. Simply call or email us for your custom order! Comes with limited lifetime manufacture warranty!

Hose length is customizable. If you desire a custom length hose or have any questions, please contact us:
Handheld Cryo Guns for Stage Performance Special Effects
Co2 Special Effect Guns could turn an ordinary event into a show-stopping performance. Using high-quality Co2 Cannon Guns, a DJ can move around the stage and around the DJ booth with ease. CryoFX® manufactures and supplies custom manufactured Co2 Special Effects Equipment for some of the most popular DJs and entertainers from around the world.
;
Limited Edition Handheld Cryo Guns for Special Effects
Unique types of Special Effects Equipment could enable a DJ to create various levels of distinction and a reputation for dazzling the crowd. A performance that includes Limited Edition Handheld Cryo Guns from CryoFX® might generate the desired excitement level that many DJs hope to achieve. Before supplies are exhausted, DJs and other entertainers may contact CryoFX® to order a Blue Limited Edition Special Effects Handheld Cryo Gun.
About Co2 Special Effects Equipment From CryoFX®
Co2 Special Effects Equipment provides a fast way to cool the atmosphere on the dance floor, in nightclubs or during a high-energy concert. When used correctly, Co2 Special Effects Equipment provides a safe and an economical way to enhance any form of entertainment. With the purchase of Limited Edition Handheld Cryo Guns for Special Effects or Co2 Cannon Effects Guns, CryoFX® provides an operations manual that explains how to safely use its Co2 Special Effects Equipment.
;
Using Co2 Cannon Effects Guns
Entertainers enjoy using Co2 Cannon Effects Guns from CryoFX®. With plug and play features, our Co2 Guns include a branded CryoFX® Hose that easily attaches to a Co2 Tank. Simply squeezing the trigger on our Limited Edition Co2 Guns will empower a DJ to shoot Co2 Smoke for dozens of feet into the air. Co2 Guns from CryoFX® include a manufacturer's warranty against defects for standard use.
;
Ordering Limited Edition Co2 Guns From CryoFX®
While DJs can create a wow factor with any type of Special Effects Equipment from CryoFX®, our Blue Limited Edition Special Effects Handheld Cryo Gun may take an upcoming performance to another level. Before our Handheld Cryo Guns for Special Effects are sold out, contact a representative from CryoFX® to inquire about our Blue Limited Edition Co2 Guns.
Co2 Special Effects Equipment may be purchased from our locations in San Diego, Los Angeles, Phoenix and Las Vegas. Orders for Co2 Cannon Guns, Limited Edition Co2 Guns, Co2 Special Effect Guns and our Blue Limited Edition Special Effects Handheld Cryo Guns may be placed by phone at (619) 855-2796.
Email- [email protected]
+1-8-555-CRYOFX
(+1-855-527-9639)
More Information

| | |
| --- | --- |
| Weight (kgs) | 1.2 |
| Model | Limited Edition Series Premium Handheld CO2 Gun for Smoke Special Effects |
| Output | High Output |
| Size and Type | No |
| Linkable | No |
| Power | No |
| Power Cord Length | No |
| Tank Height | No |
| Tank Width | No |
| Tank Weight | No |
| Tank Material | No |
| Tank Color | No |
| Tank Style | No |
| Tank Capacity | No |
| Tank Valve Outlet Orientation | No |
| Temperature Rating | No |
| LED Count | No |
| LED Color | No |
| LED Wattage | No |
| Reach | 25'-35' feet (7.6-10.6 meters) |
| Nozzle Material | Metal |
| Pressure Rating | Up to 1100 psi (75.84 bar) |
| Warranty | Limited Lifetime |
| Warranty (Tank) | No |
| Display Product Options In | Block after Info Column |
| Hose Length | Pre-Selected or Custom Lengths available |