Co2 Tank Rental | CryoFX
Co2 Tank Rental from CryoFX. One Source for Co2 & Industrial Gas Tank Rentals & Booking Across the USA / Canada!
Special Effects • Agriculture / MMJ • Welding • Breweries • Cannabis • Pools • More
Pickup or Delivery Options Available. Any Size Order.
Order NOW...Call:1.855.527.9639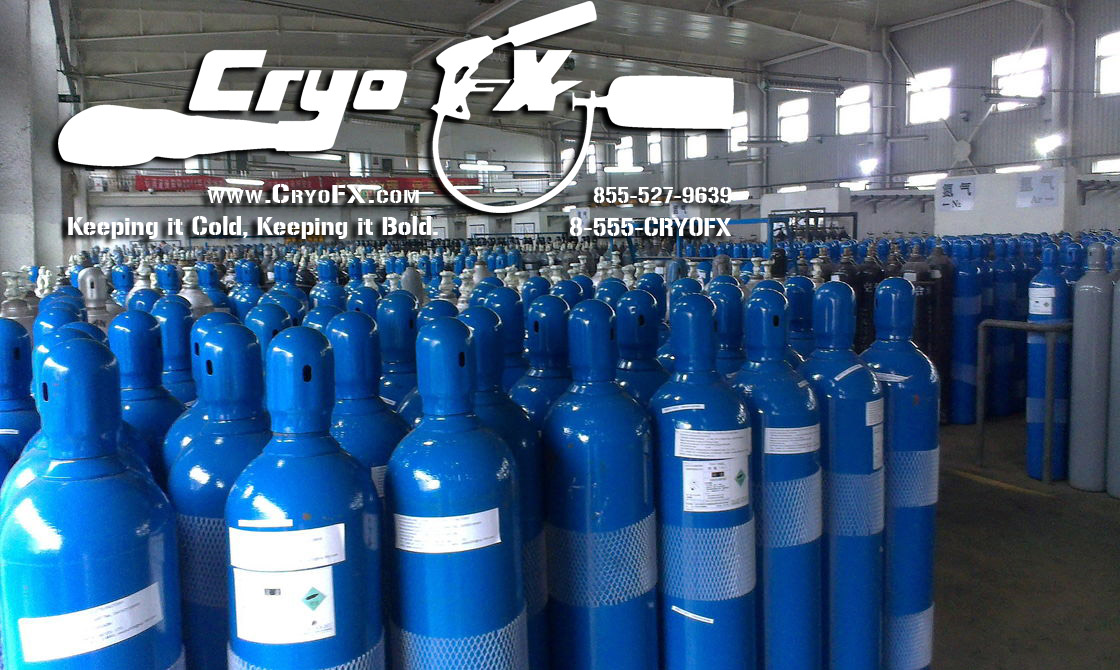 CryoFX LLC • 3859 S Valley View Blvd Suite 2, Las Vegas, NV 89103
24/7 Rental Inquiry Submission: https://www.cryofx.com/rental/#amform-form-6
How the Co2 tank rental program works.
Carbon dioxide is used in different fields e.g. in the entertainment industry, food industry, medical field, in the beverage industry etc.
Its uses include:
• Fire extinguishing.
• Production of carbonated and soft drinks.
• Medical purposes.
• Cooling of grapes' clusters in the wine making process
• Refrigeration especially in the food industry
• Food additive
All these industries are in constant need of Co2 supply. They can opt to buy or rent the Co2 tanks. The Co2 cylinder rental is not familiar to many hence the need to discuss it in detail.
How does the Co2 tank rental work?
If you do not want to be locked in to buying the tanks or if you are yet to make a purchase decision, the Co2 tank rental program is your solution.
Before you settle for a supplier, consider their proximity, efficiency, effectiveness, delivery, pick up and the flexibility of their services.

CryoFX is highly recommended as the most efficient Co2 cylinder rental supplier.
Choosing CryoFX is a surety of constant supply and rental services across all the states of America, with an average 1 week rental time, other rental periods are available. For purchases or rentals, they also assist in shipping and delivery.

CryoFX has local pickups in many areas.
Apart from the co2 bottle rental services, CryoFX allows you to hire its specialists to set and operate the tanks as well.
Another service relating to the Co2 tank rental is a program referred to as rent to own. This is suitable for those who partake of the C02 tank rental program with an aim of buying, or the clients who are yet to decide to buy the tanks.
How the Co2 tank rental and the rent to own program work

CryoFX has simplified the co2 cylinder rental service by the five steps below.
1. Choose the Co2 tank dimension of your requirement.
Note that CryoFX has a variety of Co2 tanks dimensions.
2. Inform CryoFX of your choice after reviewing the Co2 Tank Dimension Chart.
You can reach the rental department on 855-527-9639 extension 2 or via mail at [email protected]
3. The daily rental rate will be made known to you.
4. Pay the full amount.
5. Shipping of the Co2 cylinders to your desired address.
It is important to note that the rental charge applies from the date of delivery of the cylinders and expires the day the cylinders are shipped back to the supplier.

If you retain possession of the tanks past the last rental date, you are considered to have purchased them when you're within the Tank Rental Program. However, if you decide to return the tanks before depletion of your deposit, you may be required to pay the shipping fee.

In conclusion, it is clear that the Co2 rental program is very convenient especially with a supplier as good as CryoFX. Go ahead and make your rental order or decide to rent to own a Co2 tank.
-----------------
If you are in the market for a Co2 tank rental, you have several options available to you depending on your specific needs. Co2 tank rentals are a convenient and cost-effective way to obtain the gas necessary for a variety of applications, including carbonating beverages, inflating tires, and powering pneumatic tools. With a wide range of sizes available, you can find a Co2 tank rental that suits your needs and budget.
The most common Co2 tank rental sizes are 5lb, 10lb, 20lb, 35lb, 50lb, 75lb, 100lb, and 200lb. The 5lb Co2 tank rental is perfect for small-scale applications, such as carbonating a few kegs of beer or inflating a few tires. The 10lb Co2 tank rental is slightly larger and can accommodate a few more kegs of beer or a larger tire. If you need a more significant amount of gas, the 20lb Co2 tank rental is a popular choice. It is often used for carbonating larger quantities of beer or powering pneumatic tools.
For industrial and commercial applications, larger Co2 tank rentals are available. The 35lb Co2 tank rental is a common size for welding applications, while the 50lb Co2 tank rental is frequently used for filling tires and powering large pneumatic tools. The 75lb Co2 tank rental is ideal for carbonating beverages on a large scale, and the 100lb Co2 tank rental is often used for industrial processes that require a steady supply of gas.
The largest Co2 tank rental available is the 200lb tank. This size is typically used for industrial and manufacturing applications that require a significant amount of gas. If you are unsure about what size Co2 tank rental you need, it is always best to consult with the rental company or your equipment manufacturer.
Co2 tank rental prices can vary depending on the size of the tank and the rental duration. Most rental companies offer short-term rentals, such as daily or weekly rentals, as well as long-term rentals, which can be several months to several years. The price of the rental may also include delivery and pickup of the tank, as well as the cost of filling the tank with Co2 gas.
When selecting a Co2 tank rental, it is essential to choose a reputable rental company that can provide you with a quality tank that meets your needs. Look for a company that has experience in the industry and can offer you a range of tank sizes to choose from. Additionally, make sure the rental company can provide you with regular maintenance and repairs, as well as prompt delivery and pickup of the tank.
Another important factor to consider when renting a Co2 tank is safety. Co2 gas is a hazardous substance, and proper handling and storage of the tank are critical to ensure the safety of everyone involved. Always follow the manufacturer's instructions for the safe use and storage of the tank and never attempt to modify or alter the tank in any way.
In conclusion, Co2 tank rentals are a convenient and cost-effective way to obtain the gas necessary for a variety of applications. Whether you need a small 5lb tank for carbonating a few kegs of beer or a large 200lb tank for industrial manufacturing, there is a Co2 tank rental available to suit your needs. With proper maintenance, handling, and storage, Co2 tank rentals are a safe and reliable solution for obtaining the gas you need. Be sure to choose a reputable rental company and follow all safety guidelines to ensure a successful rental experience.