Cold Pyro Machine | CryoFX®
Cold Pyro Machine by CryoFX®. CALL NOW to Order!
Cold Pyro Machines (New or Used) • Cold Fireworks Machine
More info on Cold Pyro Machines for Rent or Purchase Call CryoFX®.
Contact us NOW for info...Call:1.855.527.9639
CryoFX LLC • 3859 S Valley View Blvd Suite 2, Las Vegas, NV 89103
24/7 Rental Inquiry Submission: http://www.cryofx.com/rental/#Post_Form
Cold Pyro Machine
Do you desire a spectacular display of fireworks for your wedding, concerts, campaigns, film production, movie sets, product introduction among other events and productions? A cold pyro machine will help you enjoy this breathtaking view for both indoors and outdoor events and productions.
Despite its ability to produce fireworks is not like the traditional pyro machines. It has the ability to emit cold fireworks which do not explode and are not subject to catching fire.
Who are the trusted and most reliable suppliers of the cold pyro machine?
Showven technology, located in China, an international manufacturer of stage special effects products and solution is the first known manufacturer of the cold pyro machine. Showven later settled for a distributor in the USA to increase its market base and later adopted the distributor's name as the brand name of the cold pyro machine in the United States of America. This distributor is known as Sparktacular Inc
Overtime, the cold pyro machine has been given different names including, the Sparkular, Sparktacular, Showven Sparkular, cold spark machine, cold fireworks machine, cold spark fountain, and many more.
The introduction of the cold pyro machine solved the problems associated with the traditional sparkular machines. Some of the problems and health hazards eliminated include: environmental pollution, gun powder dangers, high costs and restriction to outdoor events among many others.
CryoFX, the global dealer of Co2 special effects products and equipment has also offered for sale a few versions of the cold pyro machine, Sparkular and also another, known as iSparkFX. This cold pyro machine sold by CryoFX has, what some say, improved functionality abilities and is offered at a competitive market price compared to any other cold pyro machine.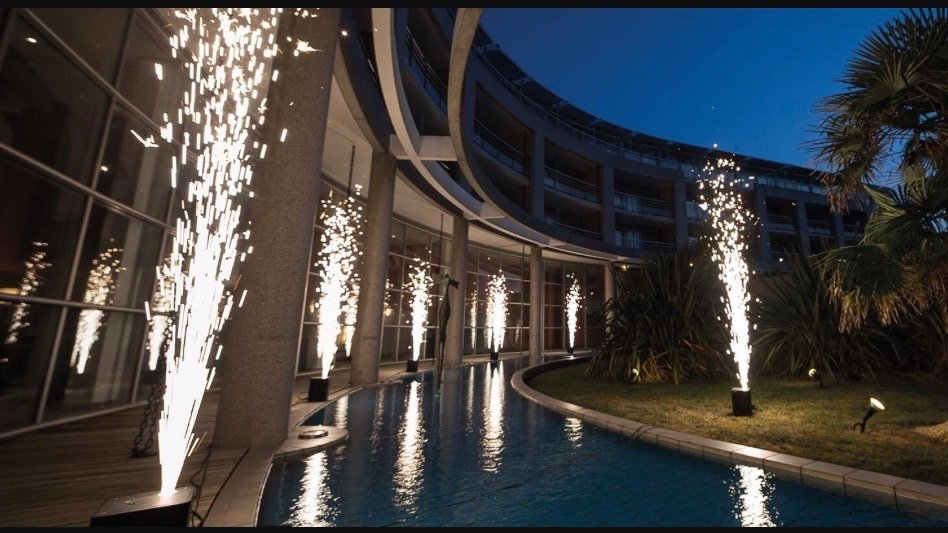 How convenient is the cold pyro machine?
The cold pyro machine operates at cool temperatures producing cool sparks which do not catch fire. This makes it suitably safe for all kinds of productions and events, whether indoors or outdoors.
It has inbuilt safety protocols. The user is able to control the display at his or her own convenience. The cold pyro machine is designed in a way that there is absolutely no possibility of manipulation. This machine allows adjustment of height, volume and time.
Setting up a single cold pyro machine is very easy and takes very little time. Unlike the traditional machines whose preparation time took days, a line of Sparkular machine can be set up in less than an hours' time.
The cold pyro machine is offered for daily and weekly rentals as well as for sale. The rentals include a controller and all the cables necessary to set up the machine.
This cold fireworks machine for sale and rent has distributors in the United States of America, Bahrain, Oman, Guan, Philippines, Canada, Bahamas, Argentina, Peru, Venezuela, Brazil, Chile, Trinidad, Ecuador, Brazil, Mexico, Dubai, Colombia, Jamaica and Puerto Rico.
This machine is readily available at an affordable price and setting it up is easy.
How does the Sparktacular machine work?
The Sparkular machine has a card that has a time limit on it. Each card goes with a single pack of granules. When the car runs out of time, the granules/ card are replaced to have the machine work again.
This machine is fully programmable and can control up to 18 units at once by use of the standard controller and 54 units by use of the pro-controller.
Cold Pyro Machine Safety measures
Your safety as well as that of your audience should be the number one priority despite wanting to achieve specific results. The cold pyro machine for sale and rent is safe for both the user and audience.
The audience can run their hands through the sparks emitted by the cold pyro machine with absolutely no harm, although this is not recommended. This makes the cold sparks machine favorable for indoors events and productions.
However, it is important to maintain a separation distance of about 6-10 feet between the machine and the audience.
The traditional sparks machine could hardly be stopped or controlled once started. The Sparktacular machine comes with a high tech inbuilt safety protocol for control of its operation.
It is important that before you settle for a Sparktacular machine, always check the amount of units that you will require for your desired effects, the duration and quantity.
The iSparkFX has an on and off button allowing its users to be in full control of it. This is a replacement of the card that is used by the Showven Sparktacular.
Settling for the cold pyro machine is a guarantee of value for your money. Better still, why not settle for iSparkFX, if you wish to bypass the timer card, which is offered at a competitive price both for sale and rent by CryoFX.
The cold pyro machine by Showven is sold at $ 18,600 while iSparkFX is sold at $1,649. If you choose to rent the machine from CryoFX, you will be charged a rental price of $250-340 per day depending on many factors.
For more information on cold pyro machine purchase and rental, check https://development.cryofx.com/ or contact the experts on 1-855-527-9639.
The Sparktacular machine offered by CryoFX seems to carry the day. It is relatively affordable and its capability is beyond measure. Buy sparkular.