Cryo Gun + 20 lb Co2 Tank
Quick Overview
If your looking for a complete handheld Cryo setup, the CryoFX® Cryo Gun Pack T20 is what you need! Comes with everything needed for immediate usage (except Co2). Includes the industry famous CryoFX® Handheld Cryo Gun, CryoFX Brand Co2 Hose and lightweight CryoFX Brand Aluminum Co2 Tank!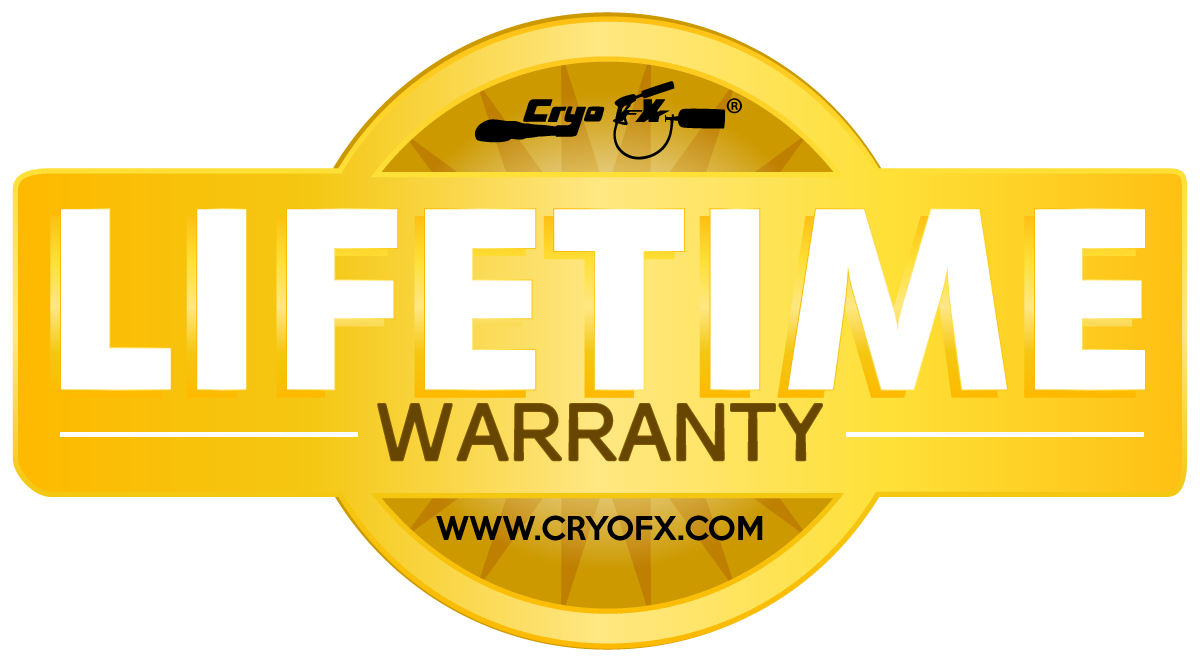 ATTENTION: This Item is only available to USA, Canada, Mexico, South America. The Co2 Tank included will not work outside of these regions.
CryoFX Cryo Gun Pack T20 is a complete Set! Plug & Play Handheld CO2 Jet, with tank and hose, ready to use in minutes! This package comes complete with the following:

• Cryo Gun with attached 10" nozzle and attached quick disconnect fitting.
• CryoFX Brand High Pressure CO2 Cryo hose with attached quick disconnect fitting.
• CGA-320 Co2 Fitting (to connect the hose to the CO2 Tank)(USA, Canada, Mexico, South America)
• 20lb (pound) Aluminum CO2 Tank with special Siphon Tube (required for Cryo Equipment)
• Manual, Safety Guidelines, and FAQ (Frequently Asked Questions)
• LIMITED LIFETIME WARRANTY AGAINST OPERATIONAL/MECHANICAL DEFECTS (on Cryo Gun Only. 15 Day Operational Warranty on Tanks)

If your looking for a mobile Cryo System, this is the one for you. Lightweight, compact, and all in one! Designed for ease of use and extremely quick setup, all parts come pre-installed so you are setup and ready to go in minutes. The CO2 Tank is shipped empty therefore no CO2 is included. You WILL need to get tank filled with CO2 (costs about $20) for CryoFX Cryo Gun to work. The tank included is a special CO2 Tank called a "Siphon Tank". A siphon tank is the same tank as a regular CO2 Tank but has an added tube which drops down the center to suck the liquid CO2. These 20lb tanks normally do not come with the added "Siphon" feature, only larger tanks normally have it. Because of this, many people will take a regular CO2 tank and turn it upside down, which is EXTREMELY DANGEROUS. Because of that, we at CryoFX have made this simple and provided you with a 20lb CO2 Siphon Tank so you do not have to turn it upside down. Therefore, all you need to do is take your tank to a gas supplier and have it filled. DO NOT exchange it, have it filled and returned to you! The gas supply store may try to tell you it is not a siphon style tank because they normally don't come that small but reassure them that it is and was specially adapted for this feature, which normally costs over $70 to do. The tanks are also current on hydro testing, meaning they are ok and safe to use and required by law every 5 years!

The hose and Cryo Gun listed here have quick disconnect fittings already installed so you can easily disconnect the hose from the CO2 Gun when not in use. These quick disconnect fittings have closed ends once disconnected so CO2 will not disperse when disconnected under pressure, although this is not recommended. NO electricity is required for this package, simply connect the hose to the gun, and the other end of the hose to your CO2 tank and your ready to go! This CO2 gun shoots a 25'-35' foot long (7-10 meters) stream which is about 5' - 7' feet wide! These CO2 guns are used by DJs, entertainers, special effects personnel and almost anyone in stage productions, nightclubs, bars, live performances, concerts, haunted houses, special events and much more. They are similar to a fog machine but do not linger like fog, leave a residue or weird smell, or set off fire alarms. They also significantly cool down an area very quickly. The CO2 dissipates immediately after coming out of the gun so the cloud vanishes seconds after the user stops spraying.

With options available such as; Custom nozzle colors, custom hose lengths, custom nozzle lengths and nozzle widths, and much more, that unique touch for your Cryo Gun is just fingertips away. Simply call or email us for your custom order! Comes with limited lifetime manufacture warranty!

Hose length is customizable. If you desire a custom length hose or have any questions, please contact us:
Email- [email protected]
+1-8-555-CRYOFX
(+1-855-527-9639)
More Information

| | |
| --- | --- |
| Weight (kgs) | 14.5 |
| Hose Length | Pre-Selected or Custom Lengths available |
| Model | Handheld Jet |
| Length | 20 inches (50.8cm) |
| Height | 9 Inches (22.86cm) |
| Width | No |
| Size and Type | No |
| Linkable | No |
| Power | No |
| Range of Motion | No |
| Tank Height | 27.5 inches (69.85 cm) |
| Tank Width | 8 inches (20.32 cm) |
| Tank Weight | 24.75 lbs (9.41 Kg) |
| Tank Material | Aluminum |
| Tank Color | Aluminum or Black |
| Tank Style | Siphon Tube |
| Tank Capacity | 20 lbs (9.07 Kg) |
| Tank Valve Outlet Orientation | USA CGA-320 Compatible Only |
| Temperature Rating | No |
| LED Count | No |
| LED Color | No |
| LED Wattage | No |
| Reach | 25'-35' feet (7.6-10.6 meters) |
| Nozzle Material | Metal |
| Pressure Rating | Up to 1100 psi (75.84 bar) |
| Warranty | Limited Lifetime |
| Warranty (Tank) | 15 Day Operational |
| Display Product Options In | Block after Info Column |