Quick Overview
If you want a flashy Cryo Gun in your favorite color, CryoFX NEON Cryo Guns are sure to get you all the attention you've been wanting. Featuring one of a kind BRIGHT NEON colored nozzles, there is no way to go wrong with your choice of 8 different vibrant colors, some of which react to UV Light (Black Lights)!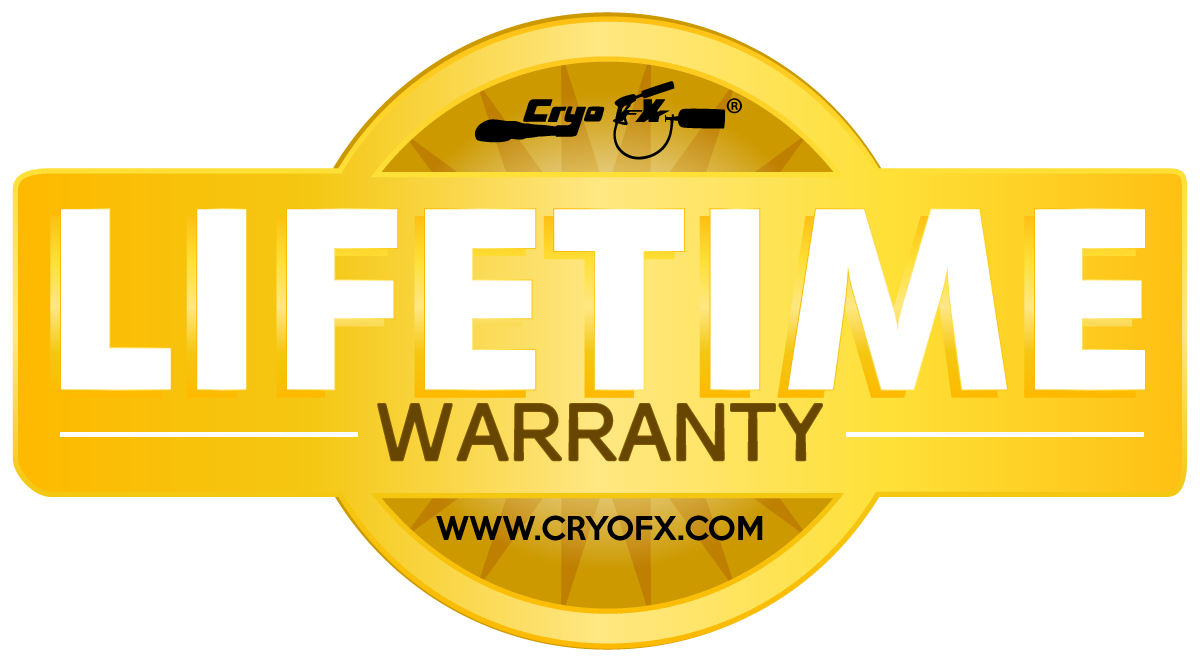 CryoFX Cryo Gun NEON CO2 Jet Cannon, one of CryoFX best sellers, is the perfect addition to any DJ system or mobile production. Have complete flexibility and maneuverability with CryoFX Cryo Gun NEON. Utilizing no electricity and weighing only 2.7 pounds (1.2Kg), this NEON Cryo Gun is extremely lightweight and has the ability to be used almost anywhere.

Add a new element and a huge surprise to any show. Incorporating easy connections and including CryoFX very own brand of High Pressure Co2 Hose, along with a step by step pictorial user manual, you will be ready to use this NEON Cryo Gun in minutes, pending you already have CO2. Measuring only 20 inches (50.8cm) by 9 inches (22.86cm), CryoFX Cryo Gun is small in size which makes it easy to carry.

CryoFX Cryo Gun NEON has the capability to spray CO2 clouds 25-35 feet (7-10 meters) or more. With options available such as; custom hose lengths, custom nozzle lengths and nozzle widths, and much more, that unique touch for your Colored Cryo Gun is just fingertips away. Simply call or email us for your custom order! Comes with limited lifetime manufacture warranty!

Hose length is customizable. If you desire a custom length hose or have any questions, please contact us:

Email- [email protected]
+1-8-555-CRYOFX
(+1-855-527-9639)
More Information

| | |
| --- | --- |
| Weight (kgs) | 1.2 |
| Model | Handheld Jet |
| Length | 20 inches (50.8cm) |
| Height | 9 Inches (22.86cm) |
| Width | No |
| Size and Type | No |
| Linkable | No |
| Power | No |
| Range of Motion | No |
| Tank Height | No |
| Tank Width | No |
| Tank Weight | No |
| Tank Material | No |
| Tank Color | No |
| Tank Style | No |
| Tank Capacity | No |
| Tank Valve Outlet Orientation | No |
| Temperature Rating | No |
| LED Count | No |
| LED Color | No |
| LED Wattage | No |
| Reach | 25'-35' feet (7.6-10.6 meters) |
| Nozzle Material | Metal |
| Pressure Rating | Up to 1100 psi (75.84 bar) |
| Warranty | Limited Lifetime |
| Warranty (Tank) | No |
| Display Product Options In | Block after Info Column |
| Hose Length | Pre-Selected or Custom Lengths available |