Quick Overview
One step up from CryoFX Cryo Gun, the Dual Nozzle Cryo Gun is a beast in disguise. With the ability to spray two streams of Co2 simultaneously, you will definitely cover an area with Co2 clouds twice as fast as with a standard cryo gun.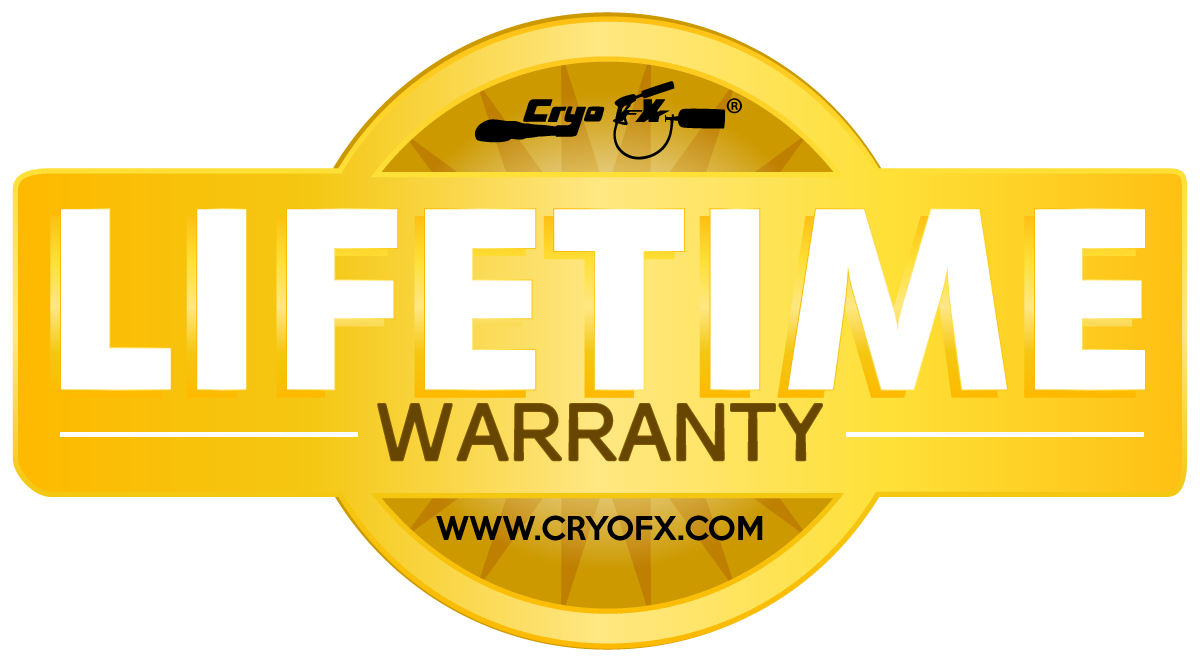 PRE-ASSEMBLED, Plug and Play handheld Dual Nozzle Cryo Gun (CO2 Cannon). Comes with hose and fittings and is ready to use in minutes, simply connect to a CO2 tank! This package comes with the following:

• Dual Nozzle Cryo Gun (CO2 Cannon) with 2 attached 10" inch nozzles and attached quick disconnect fitting.
• CryoFX very own brand of High Pressure Co2 Hose with attached quick disconnect fitting.
• Brass fitting to connect hose to CO2 Tank (Tank not included).
• Manual, Safety Guidelines, and FAQ (Frequently Asked Questions).
• LIMITED LIFETIME WARRANTY AGAINST OPERATIONAL/MECHANICAL DEFECTS.
Two nozzles, two streams of CO2, one Cryo Gun. CryoFX Dual Nozzle Cryo Gun requires NO electricity, just liquid CO2. Simply connect the hose to the gun, and the other end of the hose to your CO2 tank and your ready to go! This Dual Nozzle CO2 gun shoots two 25'-35' foot long streams which are about 5' - 7' feet wide! The hose and Dual Nozzle Cryo Gun listed here have quick disconnect fittings already installed so you can easily disconnect the hose from the CO2 Gun when not in use. These quick disconnect fittings have closed ends once disconnected so CO2 will not disperse when disconnected under pressure, although this is not recommended.
This CO2 gun is used by DJs, entertainers, special effects personnel and almost anyone in stage productions, nightclubs, bars, live performances, concerts, haunted houses, special events and much more. They are similar to fog machines but do not linger like fog, leave a residue or weird smell, or set off fire alarms. They also significantly cool down an area very quickly. The CO2 dissipates immediately after coming out of the gun so the cloud vanishes seconds after the user stops spraying.
Note: Lazers mounted on Cryo Guns may be illegally sold, depending on class of lazer and state, and are ILLEGAL for use by the Federal Government at many public venues within the US and other countries without proper permits both statewide and federally, therefore CryoFX does not supply lazers on their equipment at this time Want something custom? We also take custom orders, simple as a custom color nozzle and complex as an entire custom system.

Hose length is customizable. If you desire a custom length hose or have any questions, please contact us:
More Information

| | |
| --- | --- |
| Weight (kgs) | 1.9 |
| Model | Dual Nozzle Handheld Jet |
| Length | 20 inches (50.8cm) |
| Height | 9 Inches (22.86cm) |
| Width | 6 inches (15.24cm) |
| Size and Type | No |
| Linkable | No |
| Power | No |
| Range of Motion | No |
| Tank Height | No |
| Tank Width | No |
| Tank Weight | No |
| Tank Material | No |
| Tank Color | No |
| Tank Style | No |
| Tank Capacity | No |
| Tank Valve Outlet Orientation | No |
| Temperature Rating | No |
| LED Count | No |
| LED Color | No |
| LED Wattage | No |
| Reach | 25'-35' feet (7.6-10.6 meters) |
| Nozzle Material | Metal |
| Pressure Rating | Up to 1100 psi (75.84 bar) |
| Warranty | Limited Lifetime |
| Warranty (Tank) | No |
| Display Product Options In | Block after Info Column |
| Hose Length | Pre-Selected or Custom Lengths available |