CO2 Special Effects Equipment Repair Service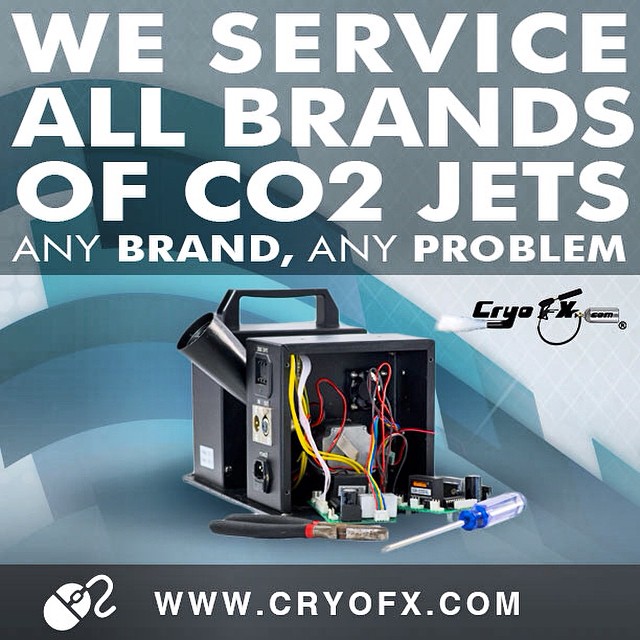 CryoFX® can troubleshoot, service, maintain or repair any Co2 Special Effects Equipment issues you may be having. Our Co2 Special Effects Technicians are experts and have years of experience in repairing Co2 Jets, Co2 Cannons, and special effects equipment of any brand with any issues you may have.
All service and repair related requests are routed through the link below.
VIDEO REQUIRED
We WILL REQUIRE a video of the problem or issue occuring on the equipment prior to providing an RMA. This is to ensure the equipment will indeed need to be repaired by our service department and not something that may be fixed or repaired prior to sending in, ultimately costing more in loss time and costs.
BENCH FEE
All incoming service and repair related items require a bench fee of $95 to be paid prior to RMA numbers and incoming address provided to you. This bench fee covers the first hour of diagnostic to review the issue in house, diagnose the full extent of the issue and prepare the proper estimate for costs and time to repair the product. Warranty related items are still required to pay the bench fee. Should the product be deemed a warranty related issue, all or part of the bench fee may be returned or used for return shipping.
SHIPPING
CryoFX® does not cover any inbound or outbound shipping charges. As these charges originate from the 3rd party shipping companies themselves, CryoFX® does not cover shipping. CryoFX® can offer discounted shipping inbound and outbound at your request. All products in the completed phase will be ready for shipping. Shipping will be included in the final invoice for all repairs and service related items.
STORAGE FEES
Service and repair related products in the completed phase, where final invoices are sent, will be ready to ship back to you. CryoFX® will include 1 week (7 Calendar Days) of free storage for the final invoice to be paid. On the 8th calendar day, storage fees of $25 per calendar day, per product, will be charged. Partial days will be charged $12 to 12pm PST, and will become a full days charge after 12pm PST. All fees will be required to be paid prior to release or return of equipment.
IMPORTANT
Please note our service department only handles incoming service requests and emails 2 times a week, therefore, submitting multiple requests will only delay in response and clog up the system. If you are in need of faster service, there is a premium service option for an additional cost. Please indicate the date you need your equipment back to you and we will include details and costs in the email reply we send to you.
The ONLY way to get a service request ticket initiated, regardless of whether this is a CryoFX® product or not, or whether the item is under warranty or not, is by clicking the link below:
https://goo.gl/forms/OOJPhNcB1eKg1If22
Please note that all incoming RMA items are subject to a $95 bench fee. Non-warranty related items are subject to the full bench fee of $65, which covers the first hour tech rate for diagnostics. Repairs, parts, return shipping, and additional time are billed separately for non-warranty RMA's.