Sparktacular Machine | CryoFX®
Sparktacular Machine from CryoFX®. Rent or Purchase. CALL NOW to Order!
Sparktacular Machine for Sale (New or Used) • Showven Sparktacular Rental • Sparkular
Showven Sparktacular Price..for Rent or Purchase Call CryoFX®.
Contact us NOW for info...Call:1.855.527.9639

CryoFX LLC • 3859 S Valley View Blvd, Suite 2, Las Vegas, NV 89103 • 1.855.527.9639
24/7 Rental Inquiry Submission: https://cryofx.com/rental/#amform-form-6
Sparktacular machine
Showven technology is an international manufacturer of high-end stage special effects products and solution. Showven is the founder of Sparkular machine. This is the first cold spark fountain machine.
The introduction of this cold fireworks machine solved the problems associated with the traditional fireworks machines. These include: fire permits, gunpowder dangers, high costs and restriction to outdoor events among others.
Sparktacular Inc. is the distributor of Sparkular in Florida USA. The Sparktacular is the name the USA distributor of Sparkular uses to refer to the Showven sparkular, hence adopting the name Sparktacular as the brand name for the Sparktacular machine. Other names use to refer to the Sparktacular machines are: Sparkular machine, cold spark machine, cold fireworks machine, cold fireworks weddings, and Showven sparkular etc.
Unlike the traditional fireworks machine, the Sparktacular machine operates at cool temperatures producing cool sparks which do not catch fire. This makes it suitably safe for all kinds of productions and events, whether indoors or outdoors.
The cold spark machine has inbuilt safety protocols. The user is able to control the sparks effects with absolutely zero possibility of explosion or fire. This machine allows adjustment of height, volume and time.
A single Sparktacular machine is easy to set up. Unlike the traditional fireworks whose preparation time took days, a line of Sparkular machine, or similar, can be set up in less than an hours' time.
The Sparktacular machine is offered for daily and weekly rentals. The rentals include a controller and all the cables necessary to set up the machine.
This cold fireworks machine for sale and rent has distributors in the United States of America, Bahrain, Oman, Guan, Philippines, Canada, Bahamas, Argentina, Peru, Venezuela, Brazil, Chile, Trinidad, Ecuador, Brazil, Mexico, Dubai, Colombia, Jamaica and Puerto Rico.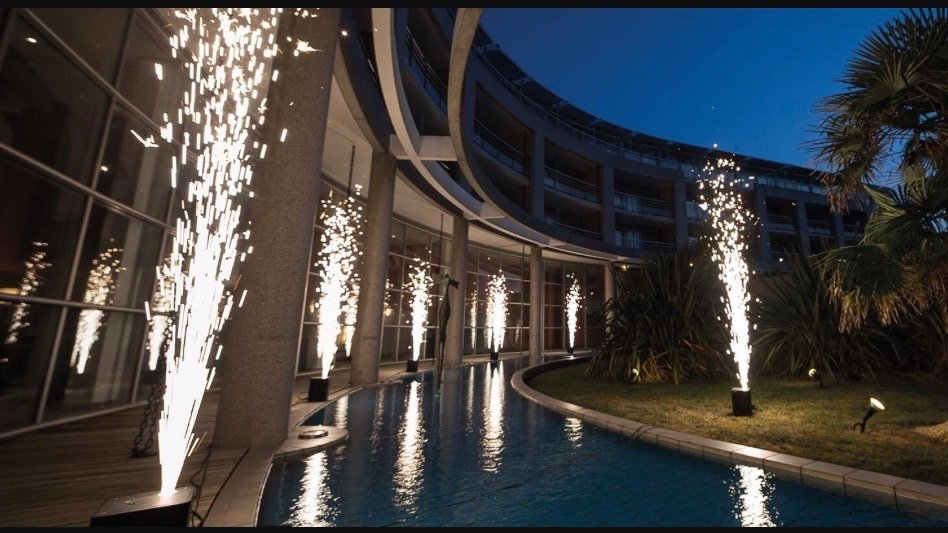 How does the Sparktacular machine work?
The Sparkular machine has a card that has a time limit on it. Each card goes with a single pack of granules. When the card runs out of time, you will need to replace the granules/ card to have the machine work again.
This machine is fully programmable via DMX and DMX can control up to 18 units at once by use of the standard controller and 54 units by use of the pro-controller.
The cost of this machine is also relatively affordable despite its outrageous capabilities.
Sparktacular Safety measures
Safety should be the number one priority despite wanting to achieve specific results. The Sparktacular machine for sale and rent is safe for both the user and audience.
Unlike the traditional machines that were fond of errors, the sparks produced by Sparkular machine are not flammable at all. As a matter of fact, the audience can run their hands through the sparks with absolutely no harm. This makes the cold sparks machine favorable for indoors events and productions.
However, it is important to maintain a separation distance of about 6-10 feet between the machine and the audience.
The traditional sparks machine could hardly be stopped or controlled once started. The Sparktacular machine comes with a high tech inbuilt safety protocol for control of its operation.
It is important that before you settle for a Sparktacular machine, always check the amount of units that you will require for your desired effects, the duration and quantity.
CryoFX offers both Sparkular Cold Spark machines and similar versions of the Sparktacular called the iSparkFX.
The iSparkFX is a unique spark-igniting machine, which is safe to use since it produces cold sparks, which do not catch fire. This version of the sparkular is comparable, and the customer can chose which model to rent or purchase. Since iSparkFX is offered at a better price, both for sale and for rental services; it is the first choice for those who want a more affordable cold spark machine so as to save some money. It also boasts of high quality components.
The iSparkFX has an on and off button allowing its users to be in full control of it. This is instead of the card that is used by the Showven Sparktacular.
Settling for Sparktacular is a guarantee of value for you money whether the manufacturer in China or the distributor in the US supplies you. One may also settle for iSparkFX, which is offered at a lower price both for sale and rent.
The Showven Sparktacular unit is sold at $2,400 while iSparkFX is sold around $1,649. If you choose to rent the machine from CryoFX, you will be charged a rental price of $250 per day for unit itself.
ISparkFX despite having covered the loopholes and shortcomings of the traditional fireworks machine as well as the Showven's cold sparks machine is being offered at the best price in the market. For more information on iSparkFX purchase and rental, check https://development.cryofx.com/ or contact the experts on 1-855-527-9639.
The Sparktacular machine also offered by CryoFX seems to carry the day. It is relatively affordable and its capability is beyond measure.
------------------
The entertainment industry is always evolving, and one of the latest additions to event production equipment is the Sparktacular Machine. Also known as the Sparkular Machine, it has revolutionized the way indoor fireworks and special effects are produced, providing a unique and spectacular experience for the audience.
The Sparktacular Machine uses a Cold Spark Fountain technology to produce indoor fireworks that are not only visually stunning but also safe. Unlike traditional pyrotechnics, the Sparktacular Machine does not emit flames or smoke, making it ideal for indoor events, where fire hazards are a significant concern. Instead, it uses tiny granules of special alloy, which when ignited, produces a bright and glittering effect, without any heat or combustion. The result is a magical display that mimics traditional fireworks without the associated risks.
One of the most significant advantages of the Sparktacular Machine is its versatility in creating stage effects. It can be programmed to produce a range of patterns, colors, and heights, making it ideal for various types of events, such as concerts, festivals, corporate events, and weddings. Its DMX control feature allows the user to adjust the effects in real-time, ensuring that they sync with the music, lighting, and other special effects. This ability to synchronize multiple effects elevates the experience, creating a cohesive and immersive show.
The Sparktacular Machine's unique technology and safety features make it an attractive option for event planners and organizers. Traditional pyrotechnics require specialized permits, certifications, and safety measures, which can be costly and time-consuming. The Sparktacular Machine, on the other hand, is a plug-and-play system, which does not require any permits or certifications. It also eliminates the need for a fire marshal to be present, which can be a significant cost-saving measure for event planners.
In addition to its safety and versatility, the Sparktacular Machine also produces a stunning visual effect that adds to the overall ambiance of an event. The glittering sparks create a sense of excitement and wonder, leaving a lasting impression on the audience. It is an effective way of creating a memorable experience for guests, which is essential for events such as product launches, brand activations, and concerts.
The Sparktacular Machine has become increasingly popular in the entertainment industry, with its unique features and benefits appealing to event planners and organizers. Its popularity has led to its adoption in various events, including music concerts, theatrical productions, and corporate events. The machine's ability to produce safe and visually stunning indoor fireworks has earned it a reputation as a game-changer in the entertainment industry.
However, it is worth noting that the Sparktacular Machine is not a replacement for traditional pyrotechnics. While it offers numerous advantages, such as safety, versatility, and ease of use, it cannot produce the same level of impact and spectacle as traditional pyrotechnics. Additionally, the Sparktacular Machine is limited to indoor events and is not suitable for outdoor events where pyrotechnics are the norm.
In conclusion, the Sparktacular Machine has transformed the way indoor fireworks and special effects are produced, providing a safe and visually stunning alternative to traditional pyrotechnics. Its unique technology, versatility, and ease of use have made it a popular choice for event planners and organizers, creating a memorable experience for guests. The Sparktacular Machine is an example of how technology is advancing the entertainment industry, providing innovative solutions that enhance the overall event experience. As technology continues to evolve, we can expect to see more exciting developments in event production equipment, which will undoubtedly revolutionize the industry further.