Cold Spark Fountain | CryoFX
Cold Spark Fountains from CryoFX. Rent or Purchase. CALL NOW to Order!
Cold Sparklers Fountains For Sale / Rent • Wedding Sparks

Sparkular Rental • Sparkular for Sale from CryoFX • Cold Sparkler Machines
For A Sparkular Price / Sparkular Cost... Rent or Purchase Call CryoFX.
Contact us NOW for info...Call:1.855.527.9639

CryoFX LLC • 3859 S Valley View Blvd, Suite 2, Las Vegas, NV 89103 • 1.855.527.9639
24/7 Rental Inquiry Submission: https://www.cryofx.com/rental/#amform-form-6
Updated 10/15/2021
Cold Spark Fountains, the special effects "Cold Pyro Machine".
Are you looking forward to experiencing a breath taking cold pyro display? If yes, you need special effects spark machines to achieve your desired stunning displays. These cold spark fountains are great for weddings (wedding sparks) as well as indoor or outdoor events that want to add some awesome effects tot he mix. It is therefore important to settle for a machine that guarantees safety at all times.
The Cold Spark Fountains, also known as a cold spark effect, is a safe to use spark machine as it emits cold sparks which are not subject to catching fire.
The Cold Spark Machine special effects
The Cold Spark Machine machine is available both for sale and rental. This machine allows its user to customize how the sparks should appear. The users have the luxury of controlling the sparks' timing, volume as well as how high they rise for whatever production. You will simply be in control all through.
Cold Spark Fountain cost
This cold fountain fountain's cost is competitive despite its stunning abilities compared to actual fireworks, as there is rental options to try them or use them one time, and also purchase options to use more than once or keep them. The cold spark effect machine supplier (CryoFX) offers rental and sale services for the machines. Cold Spark Machines boast of the best price tags in the market/ industry. By choosing Cold Spark Machine, you are guaranteed of high technology, safety as well as value for your money. The material used for the special sparks effects happens to be durable since it has a long shelf life. It is therefore advisable for bulk stocking to achieve cost cutting on you overall expenses.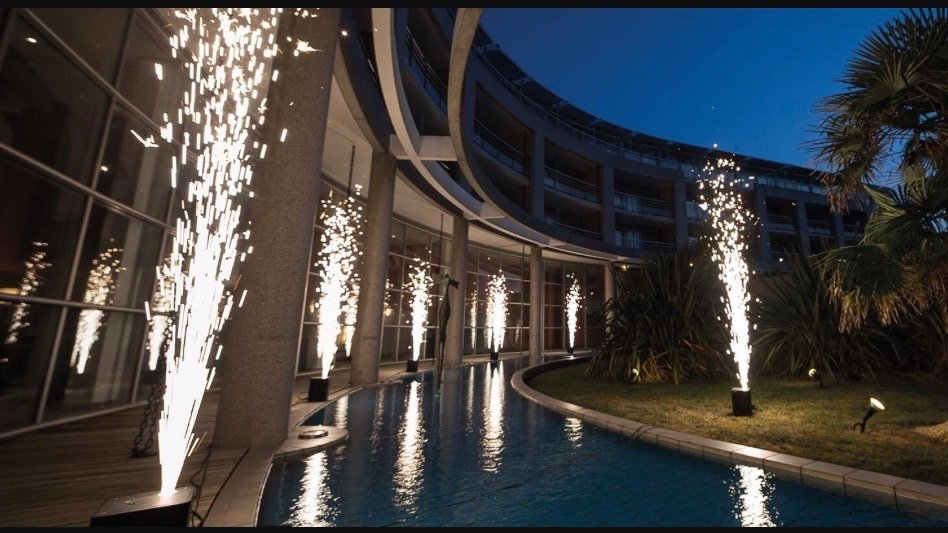 The safe and convenient special effects spark machine.
Safety should be your number one priority. The Cold Spark Machine machine as mentioned earlier does not catch fire. The Cold Spark Machine fountain system allows for safe creation of the stunning desired sparks effects. This machine is fully programmable and easy to set up.
Depending on number of units, type of unit, brand and other features you can control them in many different ways and make unique awesome views and displays. Sho0wven Sparkular units come with a special controller that works wonders with more than 10 units. It will work with any number of units however due to specialization and functions it is best used with multiple units. Other brands and all machines can also be used with regular DMX controllers or the wireless controllers they come with.
Cold Spark Fountains can be used in any environment setting since its sparks are not flammable and with a zero possibility of abuse or misuse. Its units are high tech and consist of inbuilt safety protocols hence their operations can be kept under maximum control. This is an improvement for the initial sparks machines which could overheat above 1000 degrees and couldn't be stopped once started.
Another important aspect to consider before purchasing or renting a special effects spark machine is the quantity of units required for your desired special effects.
In conclusion, whether you settle for a Cold Spark Machine for sale or rent, you are guaranteed of breath taking, stunning special effects for you and your crowd, safety as well as value for your money. The cost of a Cold Spark Machine for sale is definitely a guarantee to fit into your projected budget for production.
Go ahead and acquire the safest special effects spark machine for an amazing and memorable sparks experience.