20lb Co2 Tank (Non Siphon)
Quick Overview
Regular (Non-Siphon Tube) 20lb Aluminum Co2 Tank. This tank does not include a siphon tube (also called a Dip Tube or Eductor Tube). 
20lb Aluminum Co2 Tank, Non-Siphon. The regular 20lb Co2 Tank can be used for any application requiring Co2 within North / South America and Canada. More specifically, any region which uses a CGA320 style Co2 Valve. This tank does not include a siphon tube, therefore when used in its upright position, it will disperse Co2 in it's Gas form, not liquid.
The CryoFX® 20lb Aluminum Co2 Tank also known as co2 Cylinder does not come with a siphon tube inside. This 20 pound co2 tank is perfect for any use that requires a small tank and co2 gas output.
If you have an aquarium and need co2, perfect fit. If you have a in house cultivation and need co2, here you go! Co2 Gas for welding and need something small? This works for you!
The Co2 Tank weighs roughly 72lbs full, this tank is still easy to move when a dolly is not present. This tank does NOT include a siphon tube (also called a Dip Tube or Eductor Tube). This 20b tank has a liquid output limit of roughly :40 seconds of liquid Co2 supply and thus will give you about 8 bursts of 4 to 5 seconds of theatrical smoke plumes of special effect each when used with Co2 tank backpack. For all other applications that require gas, the output generally cannot be timed since gas use include regulators and the more regulation or restriction on flow, the longer the gas would last.
For liquid use, such as with CryoFX Co2 backpack which requires it to be upside down in the backpack holder, it has a limit of roughly 40 seconds of liquid Co2 supply.
When used in conjunction with CryoFX co2 tank backpack, it will disperse liquid since it is seated upside down in the backpack. This tank is made from Aluminum and is hydro tested before sale, which is required to get filled by any Co2 Gas facility that fills Co2 Tanks.
Note: Refurbished tanks offered as an option here are like new however have been used before. Although having been used, these are re-certified and re-hydrotested to be within date and are painted (refurbished). They operate the exact same as a new tank and come with the same CGA320 Valve.
CO2 Tank Product Description:
CryoFX® Premium aluminum 20 lb CO2 cylinder without siphon tube. See store for Siphoned Co2 Tanks.
Details about this 20lb CO2 cylinder:
Non-Siphon tube

High-quality aluminum construction

Thick, damage-resistant walls

Aluminum's natural corrosion resistance is perfect for CO2 and wet gases

Tank exterior is brushed – good-looking and easy to maintain

Aluminum tanks are up to 40% lighter than steel

Single handle for easy carrying

Date of manufacture or hydro test within 180 days

Tank performs very well at low temperatures

Ships empty

DOT- and TC-approved

Consistent TARE weight cylinder-to-cylinder

Due to size and weight, this 20 lb CO2 cylinder must ship by itself – separate shipping will appear at checkout.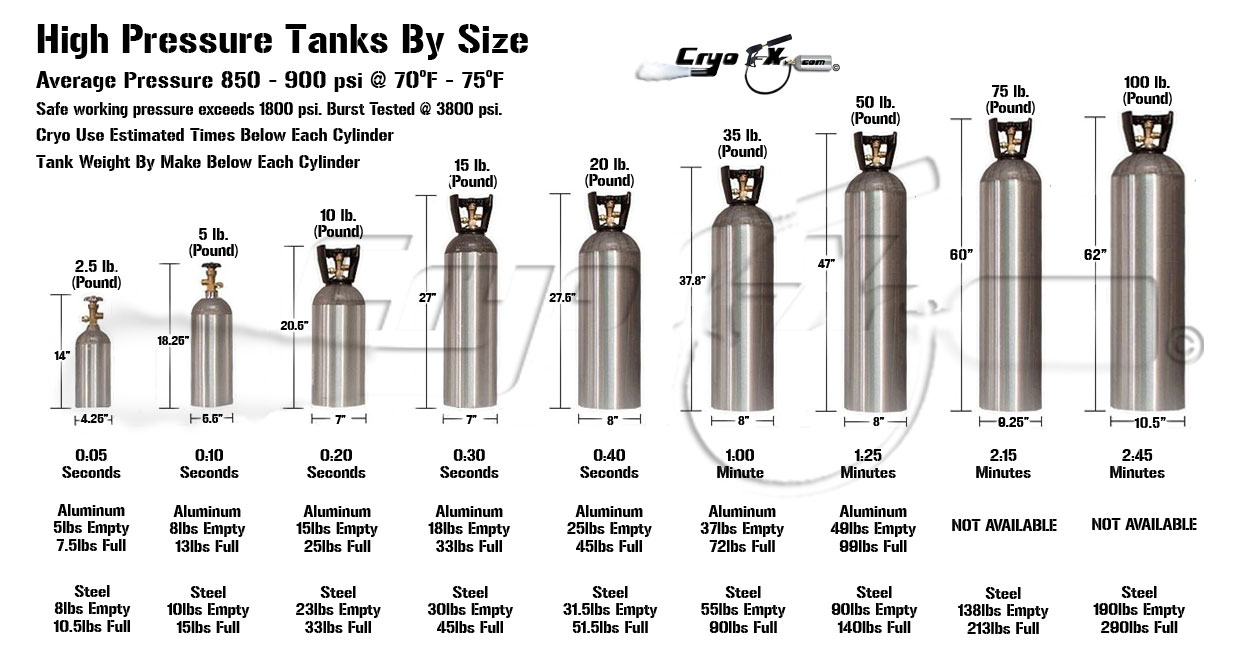 Note: Images are for representation only. Actual product may differ in color, style, come with or without logos, or vary in overall look. Functionality and parameters the product is designed to do that is advertised herein will still remain.
Updated: 6/28/22
More Information

| | |
| --- | --- |
| Weight (kgs) | 12.25 |
| Model | 20lb Non-Siphon |
| Length | No |
| Height | No |
| Width | No |
| Size and Type | No |
| Linkable | No |
| Power | No |
| Range of Motion | No |
| Tank Height | 27 Inches (68.58cm) |
| Tank Width | 8 inches (20.32cm) |
| Tank Weight | No |
| Tank Material | Aluminum |
| Tank Color | Aluminum-Grey |
| Tank Style | Non-Siphon |
| Tank Capacity | 20lbs |
| Tank Valve Outlet Orientation | CGA-320 USA |
| Temperature Rating | No |
| LED Count | No |
| LED Color | No |
| LED Wattage | No |
| Reach | No |
| Nozzle Material | No |
| Pressure Rating | No |
| Warranty | No |
| Warranty (Tank) | 15 Day - Operational Defect |
| Display Product Options In | Block after Info Column |