Sparkular for Sale | CryoFX®
Sparkular for Sale by CryoFX®. CALL NOW to Order!
Sparkular Sales (New or Used) • Showven Sparkular Machine Sale
Sparktacular for Sale • Sparkular on Sale
Sparkular Sale Price - Rent or Purchase Call CryoFX®.
Contact us NOW for info...Call:1.855.527.9639

CryoFX LLC • 3859 S Valley View Blvd, Suite 2, Las Vegas, NV 89103 • 1.855.527.9639
24/7 Rental Inquiry Submission: https://cryofx.com/rental/#amform-form-6
Sparkular for sale
The Sparkular is the first cold fireworks fountain machine to adopt the DMX control and a brand new control system with an aim of achieving multiple stage special effects.
The cold fireworks machine was first manufactured by Showven Technologies in China. Wishing to grow the market for its product, Showven searched for a distributor in the USA. It chose Sparktacular Inc. located in Florida as its distributor.
The distributor then adopted Sparktacular as the Sparkular's brand name. This is the reason the Sparkular machine is referred to as Sparktacular in the United States of America.
Features of the Sparkular for sale
The Sparkular for sale is characterised by the following features;
It is environmental friendly because it has very low smoke output.
It has no Pyro Smell
It produces sparks which are not flammable. For this reason, it is fit for both indoors and outdoors events and productions.
Every refill has a shoot time for up to 10-20 minutes.
It is easy to set up for multiple location effects.
It has an adjustable height of between 1.5 and 5 meters.
The sparkular for sale solves the problems associated with the traditional flammable fireworks which include environmental pollution, high cost, the danger of using gun powder and forbidden indoor use.
CryoFX offers a similar Sparkular for sale with more advanced features and better performance at a very reasonable price. Unlike Showven technology's sparkular which uses a card that goes with a park of granules, the CryoFX sparkular for sale has an on and off button hence no need of refills in between use. This cold fireworks machine is referred to as the iSpark-FX.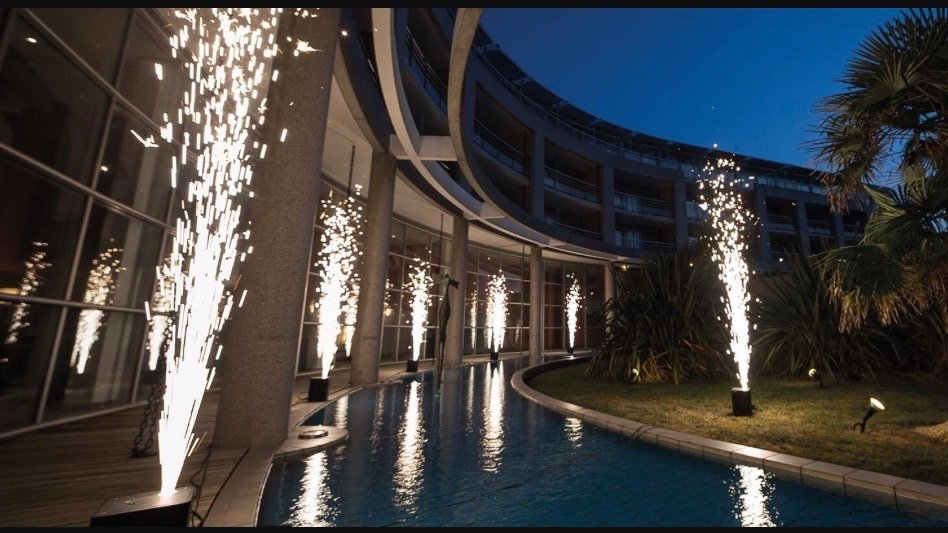 Overview of the sparkular for sale
The Sparkular machine is not considered as a pyro even if it produces fireworks. The Sparks that are emitted from the sparkular for sale are not flammable i.e. they do not catch fire. Instead, they rise up just like shooting stars until they burn out.
The Sparkular machine for sale has options of controlling the height at which the sparks shoot, their timing as well as intensity.
This machine is not fuelled by chemicals. It makes use of granules which are a combination of titanium and zirconium.
The Sparkular machine for sale can be contained in a fountain tube without a possibility of exploding.
This cold fireworks machine has a LCD screen through which the machine's performance can be observed. If used with the DMX control systems, it is possible to monitor the machine's functions on the screen.
The Seven error codes of the Sparkular for sale allow the user to monitor whatever goes on with each of the fixtures in the system configuration.
The heat chamber should always be kept clean and operational after every use to prevent the machine from ceasing operation and to allow the sparkular for sale function to its maximum.
The Sparkular for Sale
The Sparkular for sale has a work power of approximately 400w and a working temperature of -4 degrees. There is no possibility of overheating, a feature experience in the traditional fireworks machines. The sparkular for sale has a one year warranty with a life expectancy of 5 years.
This machine does not use gun powder but granules. The granules consist of 80% zirconium and 20% titanium. A pack of granules weighing 200 grams can be used for up to 15 minutes at full density and height. The granules are sold per case consisting of 12 packs. Each pack of these granules is used with a card which is replaced each time the pack runs out.
The sparkular machine for sale produces cold sparks which do not catch fire hence any threat to the audience is eliminated. Even though the machine is safe to use even for indoors events and productions, it is important to maintain a separation distance of between 6 to 10 feet from the audience.
The CryoFX sparkular for sale, iSpark-FX has been widely accepted in various events and productions like movie sets, film production, marketing events, social events like weddings, live performance among others.
Despite its highly rated performance and ability, the iSpark is offered at low price as compared to other sparkulars in the market. The Showven sparkular complete system is sold at $ 18,600 while the iSpark-FX machine offered by CryoFX is sold at $1,899 and the rental charge is $250 per day.
The Sparkular for sale complete system consist of 1 main power cord, DMX cables, 6 packs of granules, 5 extension power concords, rod case with USB instructions and 6-BT002 sparkular units.
The Sparkular machine for sale guarantees safety to you and your audience, value for your money and a spectacular view brought about by the fireworks effects. Contact CryoFX for the best prices in the market on 1-855-527-9631 or check their website https://development.cryofx.com for more information. Buy Sparkular.