Sparkular Machine for Sale | CryoFX®
Sparkular Machine for Sale by CryoFX®. CALL to Order!
Showven Sparkular Machine (New or Used) • Cold Fireworks Machine
More info on Sparkular Machine for sale or for Rent - Call CryoFX®.
Contact us NOW for info...Call:1.855.527.9639

CryoFX LLC • 3859 S Valley View Blvd, Suite 2, Las Vegas, NV 89103 • 1.855.527.9639
24/7 Rental Inquiry Submission: https://cryofx.com/rental/#amform-form-6
The Sparkular machine for sale
The Sparkular machine is the world's special effects, first non-pyro machine. This cold sparks machine allows its users to experience phenomenal fireworks display for both indoors and outdoors events.
The sparkular machine for sale is produced by Showven in China, with its main distributor located in the United States of America known as Sparktacular, which happens to be the brand name of the machine.
Furthermore, CryoFX, a leading global manufacturer and distributor of CO2 special effects products, sells both the Sparkular as well as a similar cold spark machine referred to as iSparkFX.
Websites such as www.ColdSparkMachine.com offer reviews and comparisons and well as what is considered a better version of the sparkular machine, some of which states: one may be better than the other for the mere fact its operation is not time limited unlike the cold fireworks machine which uses a card that goes with a pack of granules that run out after a short period, therefore causing disruption of the effects and a need for replacement of the card and the powder. The iSparkFX, unlike the Sparktacular machine has an on and off button.
CryoFX offers the sparkular machine for sale as well as rent.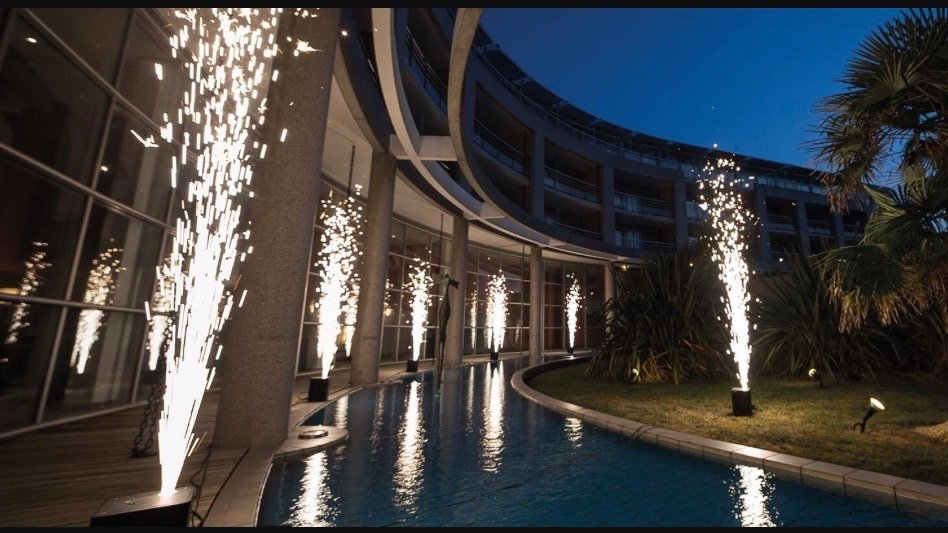 Why the sparkular machine for sale is not considered pyro
The cold fireworks machine for sale is considered non-pyro even though it produces fireworks due to its functionality.
It is important to note that these sparks do not explode. They rise upwards like a shooting star until they burn out.
The users of the sparkular machine for sale can start and stop the machine using the available button, can adjust duration, density and height. They are generally in control of the machine and the cold sparks effects and display.
This machine is environmental friendly since its fuel is not a chemical. It uses granules/ powder which is an alloy of Zirconium and titanium.
The sparkular machine for sale can be contained in a fountain tube without exploding. In this case, the cold fireworks machine for sale will become unusable after activating the granules in the hopper.
The sparkular machine for sale function is observed and monitored on the LCD screen. If the machine is used together with the DMX control systems, its functions can also be monitored on the controller.
The user is able to monitor whatever is going on with each fixture in the system configuration by use of the seven error codes.
The Sparkular machine for sale cannot accept any other granules except Showven's granules.
It is advisable to always keep the heat chamber clean and operational after every use to prevent the machine from ceasing to operate and allow it to operate to its maximum capacity.
General overview of the sparkular machine for sale
The Showven sparkular for sale weighs approximately 18.73 Lbs with 400w work power and a working temperature of -4 degrees. The sparkular machine for sale has a life expectancy of 5 years and comes with a one year warranty.
The Sparkular's granules are an alloy of two metals. They consist of 80% zirconium and 20% titanium. A pack of granules can be used for up to 15 minutes at full height and full density. Each case of granules has 12 pouches, each weighing 200 grams.
The machine should be placed at a standard separation distance of about 6-10 foot from the audience.
This machine has 18 unit and 54 unit controller. It has a monitor screen that change after every ten seconds to view the current heat and any other warning.
The sparks produced by the sparkular machine for sale do not catch fire. This makes the machine fit for both indoors and outdoor events and production.
The iSparkFX cold spark machine has been accepted in several industries for various events and productions by DJs, event planners, production companies, special effects companies, hotels, films companies and many more as seen below:
For special effects, the sparkular machine for sale is used in movie sets, films, plays and other creation.
During concerts and in night clubs, it is used by DJs and performing artists on stage.
The Sparktacular creates a breathtaking view during wedding ceremonies and receptions. The couples can add a touch of glam by use of the machine when making a grand entry. The sparks effects and display will offer a spectacular view.
Hotels, automobile companies as well as marketing firms utilize the sparkular machine when introducing a new product to the market. The effect will create a good first impression to the target market.
This machine has low smoke output therefore, it is considered environmental friendly. You don't need to seclude the machine since it's safe to use. You only need to maintain the standard separation distance.
In conclusion, it is evident that the cold fireworks machine has outrageous capabilities and is safe for both the user and his audience. Contact CryoFX, the experts, on 1-855-527-9631 for best sparkular machine for sale prices in the market. Buy sparkular.