Sparkular Machine Rental | CryoFX®
Sparkular Machine Rental by CryoFX®. CALL NOW to Order!
Sparkular Machine Rental Sales (New or Used) • Showven Sparkular Machine Rental
Sparktacular Machine Rental
Sparkular Machine Rental Price - Rent or Purchase Call CryoFX®.
Contact us NOW for info...Call:1.855.527.9639

CryoFX LLC • 3859 S Valley View Blvd, Suite 2, Las Vegas, NV 89103 • 1.855.527.9639
24/7 Rental Inquiry Submission: http://www.cryofx.com/rental/#Post_Form
The Sparkular machine rental
Do you long for a unique and breathtaking experience of indoors' fireworks display that will add more fun to your events and production and involve your audience? The sparkular machine rental will serve you right. This is a safe to use cold fireworks machine that emits cold sparks with zero possibility of catching fire. This machine will help you to safely achieve your desired special effects.
Where can you get a sparkular machine for rent?
This modern cold fireworks machine was first developed by Showven Technology, a company that is based in China. In order to increase its market base, it searched for a distributor of its products. Sparktacular distribution Inc. located in Florida USA is Showven Sparkular's official distributor and brand.
CryoFX, a global leading distributor and dealer of CO2 special effects products for rent and for sale offers a better and most preferred type of sparkular machine referred to as the iSparkFX. CryoFX offers both Sparkular machine rental and sparkular machine for sale services to its clients.
The CryoFX Sparkular, iSpark-FX, despite its abilities and advancements of the setbacks of the traditional sparks emitting machines, is very affordable both for rent and for sale.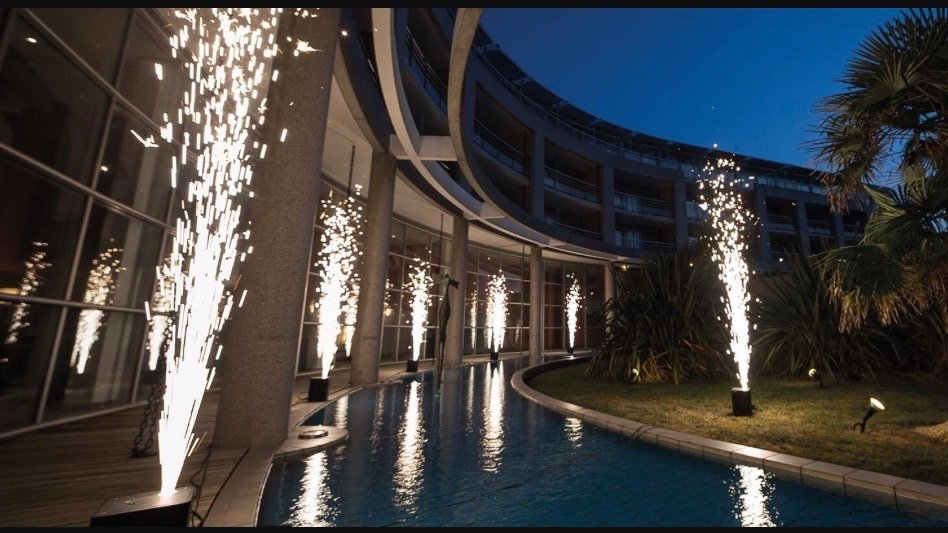 How does the sparkular machine work?
The sparkular machine rental is fitted with a card that has a time limit on it. This card uses one pack of granules which is an alloy of metals. The powder make-up for this machine includes titanium and zirconium.
The sparkular machine rental has a heating element fan that blows the granules. When they get heated, they light and create a spark as they fly upwards, just like a shooting star until they burn out and go off.
When the card runs out of time, which is the same time the pack of granules gets exhausted, both the card and the pack will have to be replaced in order to have the machine work again.
This is a disadvantage as it seems tedious to the users and the sparks special effects are interrupted.
CryoFX's iSparkFX sparkular machine rental is an improved version as it covers all these loopholes and overcomes the setbacks of its predecessors. Instead of using this card which has to be replaced after about 10 minutes of firing, iSpark-FX has an on and off button. Therefore, there is no need of stopping the effects to replace the packs or cards.
The sparks produced are cold and they do not catch fire therefore, the machine is convenient for both indoors and outdoors events.
The sparkular machine rental allows its users to control the sparks' volume, timing and the height at which they rise when fired. The users of Sparkular machine rental program can also customize how they want the sparks to appear in terms of intensity.
When are the Sparkular machines used?
The cold spark fountain display machine has gained popularity in several events for its special effects as discussed below.
The sparkular machine rental is used in wedding ceremonies and receptions when the couples are making a grand entry.
.The use of the Showven sparkular machine to achieve the special effects during marketing events for marketing purposes creates a good first impression to the targeted audience and appeal to the market.
The Showven sparkular is used to emit sparks from rockets as well as other fire releasing props in theatres during plays and also to create special effects on movie sets.
Concerts and night clubs.
During concerts, the sparkular machine rental creates fireworks effects that get the crowd involved. Djs in night clubs and dancers also use of this machine during their live performances with an aim of appealing the crowd.
The safety of the Sparkular machine
Your safety and that of your audience should always be your first priority. The iSpark-FX machine does not overheat and the sparks produced do not catch fire. Its fountain system allows for the safe creation of sparks effects by emission of cold sparks.
By use of granules, the sparkular machine for rent and sparkular machine for sale is able to eliminate the threats and dangers of gun powder experienced in traditional fireworks machines.
It is easier to control the operations of the sparkular since it consists of inbuilt safety protocols. The iSpark FX has an on and off button granting the user full control of the machine.
The Sparkular machine rental does not need to be set up in seclusion. It can be used in any kind of environment, either indoors and outdoors. With iSpark-FX by CryoFX, your safety and value for your money is guaranteed as well as environmental safety due to the low smoke output.
The recent technological advancements have made it possible to experience a spectacular display of fireworks effects while at the same time being in control of the machine.
In conclusion, you no longer have to compromise anyone's safety. Get your audience involved. Buy Sparkular.
----------------------------
As the entertainment industry continues to evolve and innovate, special effects have become an integral part of creating an unforgettable experience for audiences. One of the most popular special effects currently in demand is the use of sparkular machines, also known as cold spark fountains. Sparkular machine rental has become a popular choice for events, concerts, and performances, as they provide a safe and spectacular way to add sparks to any occasion.
Sparkular machines offer a unique type of spark that is different from traditional pyrotechnics. Instead of using actual fireworks or explosives, sparkular machines use a special powder that creates a safe and non-flammable spark effect. This makes them an ideal choice for indoor events, where traditional pyrotechnics are not feasible due to safety concerns.
Sparkular machine rental is available for events of all sizes, from small gatherings to large concerts and festivals. These machines can be controlled using DMX technology, which allows for precise control over the timing, duration, and intensity of the sparks. DMX control rental is often included as part of the rental package for sparkular machines, making it easy for event organizers to create a customized spark display that perfectly matches the mood and theme of the event.
In addition to sparkular machine rental, event production services also offer a range of other special effects equipment rental options, including indoor fireworks rental and stage effects rental. Professional lighting rental is also available to create a truly immersive experience that engages all of the senses.
When considering sparkular machine rental, it is important to work with a reputable and experienced rental company that specializes in entertainment industry equipment rental. They will have the knowledge and expertise to help event organizers select the right type and number of sparkular machines to create the desired effect. They will also be able to provide guidance on placement, safety, and other important considerations to ensure that the sparkular machines are used safely and effectively.
One of the key benefits of sparkular machine rental is their versatility. They can be used in a wide range of settings and events, from corporate events and weddings to concerts and festivals. They can be used to create an impactful entrance or exit, add excitement to a dance floor or stage, or simply provide a unique and memorable visual element to the event.
Another advantage of sparkular machine rental is that they are relatively easy to set up and operate. They do not require any special permits or licenses, making them a cost-effective and hassle-free way to add special effects to an event. This also makes them an ideal choice for event planners who are working within a tight budget or timeline.
In conclusion, sparkular machine rental is a popular choice for event organizers who are looking to add a spectacular and safe special effect to their event. With DMX control rental and other special effects equipment rental options available, event production services can create a customized and immersive experience that engages audiences and leaves a lasting impression. When considering sparkular machine rental, it is important to work with a reputable and experienced rental company that specializes in entertainment industry equipment rental to ensure that the machines are used safely and effectively. Whether it is for a small gathering or a large concert, sparkular machines are a versatile and memorable way to add excitement to any event.