Sparkular Rental | CryoFX®
Sparkular Rental by CryoFX®. CALL NOW to Order!
Sparkular Rental Sales (New or Used) • Showven Sparkular Rental • Sparktacular Rental
Sparkular Rental Price - Cold Spark Machine Rental..or Purchase Call CryoFX®.
Contact us NOW for info...Call:1.855.527.9639

CryoFX LLC • 3859 S Valley View Blvd, Suite 2, Las Vegas, NV 89103 • 1.855.527.9639
24/7 Rental Inquiry Submission: https://cryofx.com/rental/#amform-form-6
Sparkular rental
A Sparkular machine is the first true cold fireworks display machine. This machine was first manufactured in China by Showven Technology. The manufacturer later settled for a distributor in the USA, Sparktacular distributors Inc. located in Florida.
The Sparkular rental and Sparkular for sale are safe for both indoors and outdoors events and productions.
The Sparkular machine emits cold fireworks which do not catch fire. The audience can comfortably run across the sparks without facing the risk of getting burnt.
Benefits of using Sparkular machine
The Sparkular rental has become popular in several industries and events. The cold fireworks machine is used in social events like weddings when the couple are making a grand entry, marketing events when introducing a new product in the market, in films productions and movie sets, in night clubs by DJ and during concerts (live performances) by artists among others.
The benefits enjoyed by the users of Sparkular machine include:
It can be used for both indoor and outdoor events
It is easy to set up
It has low smoke output
It does not have a strong Pyro-smell
Easy set up for multiple locations
Allows the users to adjust time, height and timing
The spectacular view and effects of the sparks make performances lively and memorable.
It is a marketing tool since when used during launching of a product, it creates a good first impression to the target market.
The benefits that the users of Sparkular rental enjoy are however not limited to the above. The points above are just a sneak peak.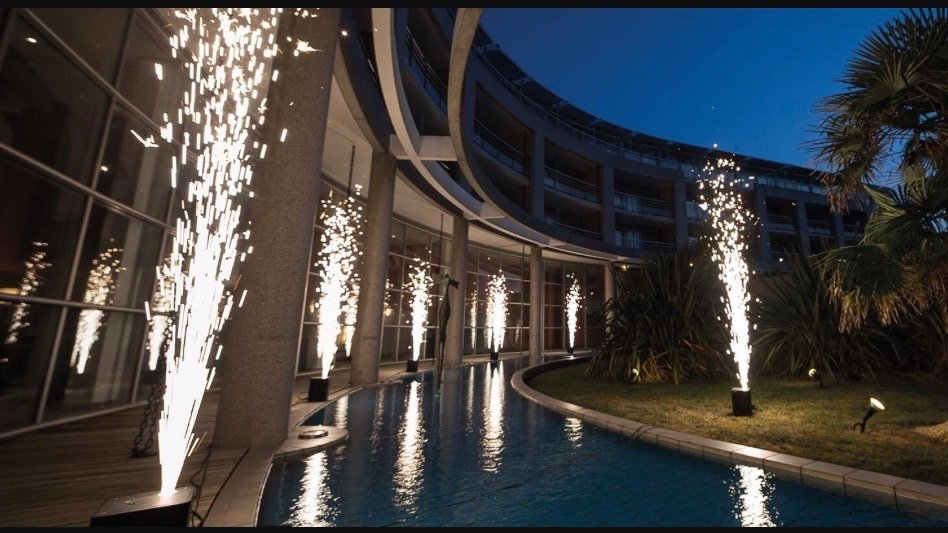 Sparkular Rental services
The Sparkular rental services include:
Rental bank for existing customers
Technician services
Qualified and experienced technical staff
All rented equipment is insured
Short term rental (daily and weekly) are allowed
Sparkular rental includes a controller as well as the necessary cables that are key to the performance of the fireworks machine. Granules are also part of Sparkular rental. These granules have the ability to fire for up to 10 minutes. The shoot height can be adjusted from between 1-5 meters.
Sparkular Rental procedure
CryoFX is a leading global dealer of CO2 special effects products. It operates and distributes in all the States of the United States. CryoFX offers a cold fireworks machine similar to the Showven Sparkular, but advanced. CryoFX's Sparkular is referred to as iSparkFX.
Unlike the Sparktacular which uses a card that runs with a pack of granules, the iSpark does has an on and off button, this allows the user to start and stop the effects at will and convenience.
CryoFX specialises in both Sparkular rental and sale.
Despite its great abilities and high rated performance, the iSparkFX is offered at a lower price point compared to any other Sparkular machine in the market.
CryoFX offers Sparkular rental services to all the States of America. So how do you rent a Sparkular from CryoFX?
A step by step guide to the Sparkular rental program by CryoFX
The first step is to select your product of interest, in this case, the cold fireworks machine referred to as iSparkFX. After you have settled on the product, inform CryoFX on 855-527-9639 Extension 2, of your interest in their Sparkular rental program. For more information, feel free to check https://development.cryofx.com/ .
The renting company will then advise you on the Sparkular rental rate. CryoFX Sparkular rental rate is $ 250 per day. Once you receive the Sparkular rental rate, you will be required to pay the full amount up front. This will act as security deposit for your selected products. There are no hidden costs since shipping is factored in the initial cost unless communicated otherwise.
After you have complied with the above rules, the product will be shipped to the address you provided. The Sparkular rental charges will be applied from the day the product arrives at your address.
If you choose to return the fireworks machine before you deplete your deposit, you will be required to repackage the product in its original packaging and ship it back to CryoFX. You will bear all the return shipping charges.
CryoFX has several pick up points in the USA. Currently, it offers local pickups at all their rental facilities. Also, all rentals are delivered in Southern California and its surroundings.
With CryoFX, you have the option of hiring a specialist to set up and operate the Sparkular rental for your event or production. CryoFX also boasts of providing both on call and onsite services for all types of your events.
In conclusion, it is very evident that CryoFX offers the most recently advance Sparkular rental and Sparkular for sale. The iSparkFX machine is an improvement of the previous sparkulars and is offered at the best price in the market. Contact CryoFX for all your special fireworks effects' machines at the best market rate.