Used 50lb Co2 Tank Steel (Non Siphon)
SKU
CFX-BE-CO2-TANK-50lb-STEEL-RECON
Quick Overview
Reconditioned Steel 50 lb. CO2 Cylinder with Cap
This reconditioned steel 50 lb. CO2 cylinder (ie Used 50lb Co2 Tank) comes with a cap.
This 50 lb. CO2 tank comes painted and ready to use, within hydro testing date.
Can be used for any indistry requiring a co2 tank, whether for special effects, serving beverages, mining operations, industrial pools use, or any other!
Also a great CO2 storage solution for laboratories and scientific uses, hydroponic growing, large aquariums, and industrial uses.
The Used 50lb Co2 Tank also known as a 50lb co2 Cylinder does NOT comes with a siphon tube inside. This 50 pound co2 tank is perfect for small productions and is lightweight enough for easy transport.
The 50lb cylinder here is reconditioned which means it passed tests and is ready to be used again.
For specail effects: The 50lb Tank will last you for about a minute of smoke special effect.
The Co2 Tank weighs roughly 130-150lbs empty, plus 50lb co2 when full. This tank does NOT include a siphon tube (also called a Dip Tube or Eductor Tube). For liquid use, such as with CryoFX® Co2 Jets, you do not have to turn it upside down. This 50lb tank has a limit of roughly 1:25 seconds of liquid Co2 supply and thus will give you about 25 bursts of 4 to 5 seconds of theatrical smoke plumes of special effect each.
CO2 Tank Product Description:
CryoFX® Premium aluminum 50 lb CO2 cylinder with non siphon tube. See store for Siphoned Co2 Tanks.
Or add a siphon tube the co2 tank here: https://www.cryofx.com/siphon-tube-installation-and-add-on-service.html
Details about this reconditioned 50lb CO2 cylinder:
Premium Construction

Reconditioned

Heavy-duty steel body

Damage-resistant thick walls

Quality Features

Cap for valve protection

Installed CGA320 CO2 valve

Performs very well at low temperatures

Freshly painted – grey

Specifications, Testing, and Approvals

8.6″ in diameter x 50″ in height (with valve and cap)

1800 PSI service / 3000 PSI test pressure

DOT- and TC-approved

Date of manufacture or hydro test within 12 months

Applications: beverage dispensing, industrial, welding, scientific, hydroponics, aquariums, special effects, or anything else needing co2!

Ships empty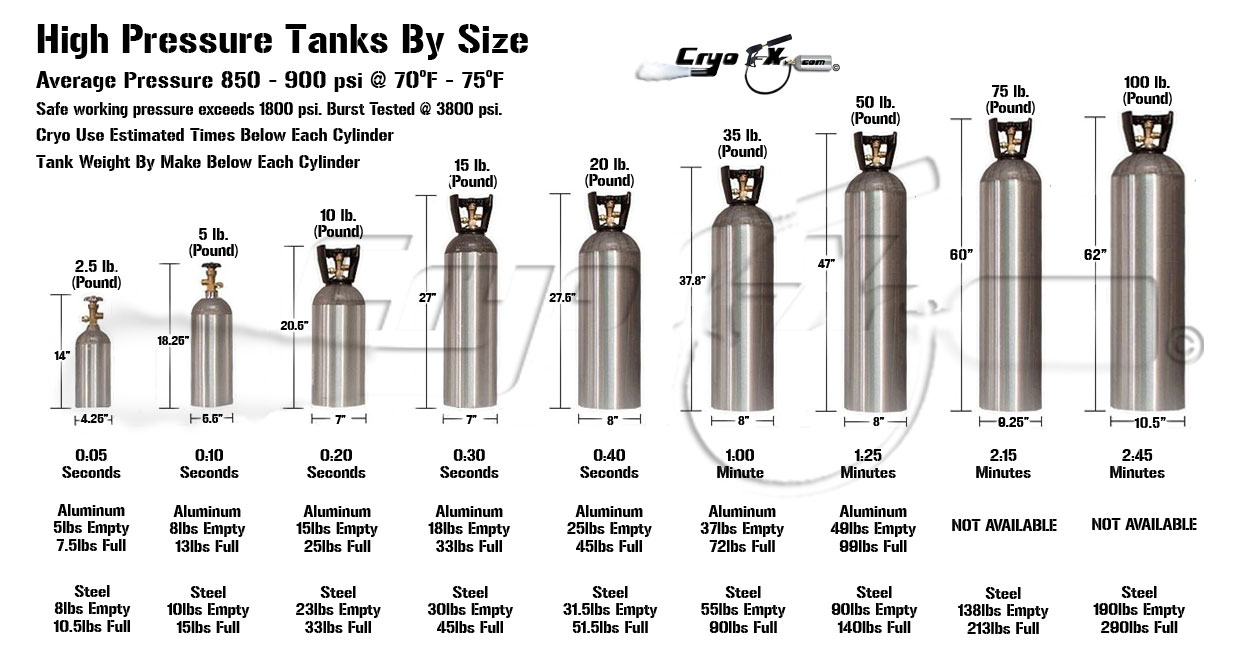 Disclaimer: Images are for representation purposes only. Color, Style, and other attributes shown may differ on actual product. Product performs for what it is advertised to do and how it is to operate.
More Information

| | |
| --- | --- |
| Display Product Options In | Block after Info Column |